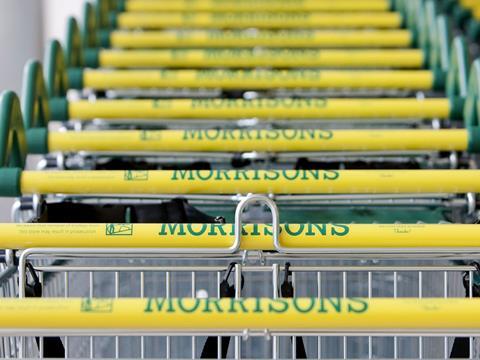 The papers pick over the bones of another dire quarterly performance by one of the big four supermarkets this morning. Underlying sales at Morrisons fell in the third quarter as CEO David Potts fought hard to turn around struggling grocer. The group blamed the 2.6% fall in like-for-like sales fell 2.6% on food price deflation and the decision to cut back on vouchering.
The Financial Times said the business was suffering because of the raging supermarket price war and the threat from the discounters. The Times followed a similar line: "Morrisons wounded in price war as sales slip." It pointed out that the performance was slightly worse than expected by the City and showed the intense competition Morrisons faces as it tries to turn around its ailing business. The Mail added that Potts has closed 11 supermarkets and sold its convenience store business since taking the helm in March in an attempt to gain traction in the "cut-throat retail environment". "It says it all that even Ant and Dec couldn't sell Morrisons to sceptical shoppers," The Independent cheerily pens. "The cheeky smiles of the ubiquitous pair have been enough to make instant hits of whatever light entertainment formats they have been associated with. Yet they proved ineffective in their quest to sell the beleaguered supermarket's wares to the people that watch their TV shows. Those people seem to prefer snacking on Aldi's kettle crisps and drinking Lidl's lager while they do so. And who can blame them?"
Better news elsewhere, at least for shareholders of ingredients group Tate & Lyle. The Financial Times reports that the sweetener and starches group posted half-year pre-tax profits that were 11% higher than a year ago. The business also set targets to deliver sales of $200m from new ingredients within five years. Tate has had a tough time in 2014 and 2015 with three profits warnings sending shares to a five-year low in August. The Times writes: "After three profit warnings in the past two years, life is looking a little sweeter for investors in Tate & Lyle as a turnaround strategy delivered an 18 per cent jump in first-half profits."
Dairy Crest is now looking to the future as a slimmed down business following the sale of its loss-making dairy unit to Muller but the first half of the financial year didn't prove easy with revenues and profits falling. Dairy Crest, whose brands include Cathedral City cheese and Country Life butter, reported revenue from continuing operations – which does not include the diary divisions – of £203.8m, down 5%, and pre-tax profits down 13% at £13.1m (The Telegraph).
Finally, The Guardian picks up the story that Asda is understood to be planning to scale back its plans for Black Friday later this month.