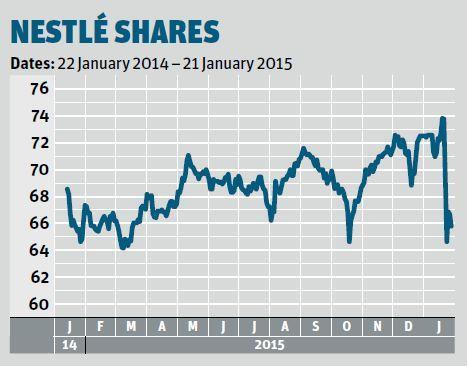 International fmcg companies are already struggling for growth amid a global emerging markets slowdown, and Nestlé has found itself under intense new pressure over the past week thanks to the shock surge in the Swiss franc.

Last Thursday, the Swiss National Bank surprised the markets by removing the €1.20 cap on the Swiss franc, sending the country's currency shooting upwards to currently trade just shy of par with the euro. The effect was catastrophic for the share prices of Switzerland's biggest companies. Nestlé shares have plunged by more than 12% since the SNB's decision, wiping almost CHF30bn (£23.1bn) off its market cap. The problem for Nestlé is twofold. Firstly, it sells the vast majority of its goods outside Switzerland, and the strengthening Swiss franc will significantly reduce global reported sales revenues and make its products less competitive. Also, the bulk of Nestlé's central costs remain in Switzerland, meaning it has significantly more expenses in francs than it does sales.

Nestlé's revenues were already being hit by the relative strength of the Swiss franc before the SNB's shock move, with sales for the first nine months of 2014 down 3.1% as sales slowed across Asia. It was a similar story for Unilever this week, which posted lower than expected full-year sales as growth remained mixed in emerging markets and Europe. The group's revenue for 2014 failed to meet analyst expectations, declining by 2.7% to €48.4bn including a negative currency impact of -4.6%. Despite this, Shore Capital's Darren Shirley commented: "A failure to deliver EPS growth when sales growth was exceeding expectations has been a key criticism of Unilever, so to over-deliver when market growth is far more subdued should be applauded." Unilever shares were down 2.5% in early trading on Tuesday, but recovered to trade 1.2% up at 2,754p by Thursday morning.

Elsewhere, solid Christmas sales performances at WH Smith and Thorntons saw shares rise from Monday's opening price by 1.9% to 1,364.9p and 1.7% to 84.4p, respectively, by Thursday morning.