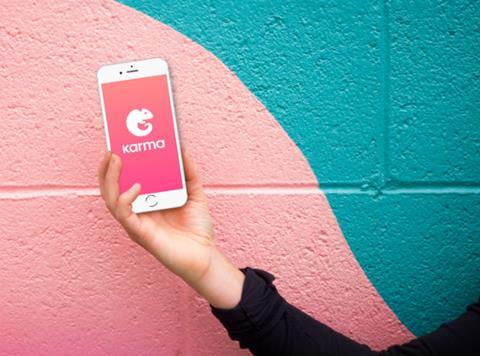 A new food app that aims to tackle surplus food waste by connecting consumers with grocery stores, restaurants and cafés makes its debut in the UK today.
Karma, which launched in Sweden in November 2016 and counts three of the country's biggest supermarkets among its partners, gives consumers the chance of buying food that would otherwise go to waste at 50% discount.
So far 50 London restaurants and delis, including Detox Kitchen and Michelin-starred Aquavit, have signed up to the initiative and discussions are being held with UK grocery stores and supermarkets.
The concept allows businesses to upload details of their surplus food to the app.
Karma customers then place an order and pay for the food before collecting it at a specified time.
In Sweden there are currently 250,000 users and 1,000 partners including supermarkets ICA, Hemköp and Co-op stores.
According to Karma, partners have the potential to increase yearly revenue of up to £30k from food that would otherwise go to waste, while opening up businesses to a new customer base – users receive free push notifications when a sale starts.
"We are super excited to be live in London and that we already have these fantastic restaurants joining as our exclusive launching partners," said Karma co-founder and COO Elsa Bernadotte. "The interest has been fantastic from day one and with Londoners being environmentally conscious, great foodies and highly digital in their food shopping, we think it's a perfect match for a solution like Karma."
Martin Berg, chef and café developer at Arket, the in-store restaurant for H&M, said: "First established in our own hometown of Stockholm, many of us working at Arket are already daily users of the Karma app and have seen first-hand what a brilliant solution it is. With a shared commitment to sustainability and smart use of resources, it feels very natural to partner with Karma and to connect our vegetarian cafés to the app when it's now launched in London."