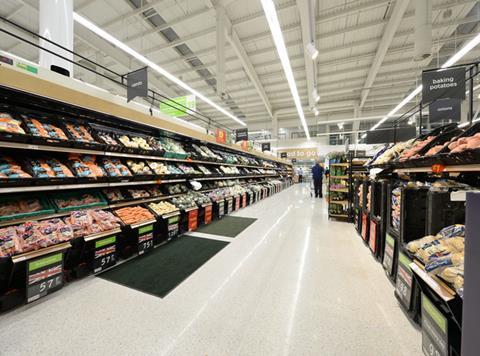 Aldi, Asda and Waitrose are set to become the latest retailers pledging to encourage consumers to buy more vegetables as part of the Peas Please initiative.

The three will join the Co-op, Lidl, Sainsbury's and Tesco, who joined the scheme in 2017, meaning retailers involved in Peas Please now make up 82.7% of the UK grocery market share [Kantar Worldpanel w/e 9 September 2018].

Pledges made at this afternoon's (8 October) Vegetable Summit at City Hall, London, are due to see Waitrose commit to recommending other vegetables each time a shopper adds a vegetable in their online basket.

"We believe there are few things more important than the food we eat," said Moira Howie, nutrition manager at Waitrose. "That's why we're committed to encouraging shoppers to incorporate a rainbow of veg into their and their families' diets - through inspiring products, recipes and events."

Meanwhile, Aldi is expected to run 12 dedicated TV ads highlighting promotions on fruit & veg, in addition to its ongoing store refurbishment plan, which sees the discounter reposition fresh produce in higher footfall areas.
Crowdfund
Peas Please, an initiative led by the Food Foundation, aims to "reverse the decline in veg consumption in the UK", delivering an additional 4.8 million portions of veg since it launched in October last year.

The programme earlier this year reached a £100k crowdfunding target for its vegetable marketing campaign Veg Power, set to launch this autumn.

Despite original pledgers having acted on promises designed to increase veg consumption, shopper behaviour was yet to reflect the increase in veg sales Peas Please had hoped for. Veg purchases made up 7.2% of the average Brit's shopping basket in both 2017 and 2018 [Kantar Worldpanel June 2018], while the percentage also remained stagnant in each of the retailers in the original cohort of pledgers.

However, a Peas Please report, which will be unveiled at the summit today, said significant shifts in consumer habits were not to be expected this early into the project, particularly given external challenges facing the UK veg retail market in 2017. These include poor weather conditions, fluctuations in the value of sterling and increased levels of business uncertainty surrounding Brexit.

It also recommended retailers "put veg at the heart of their own brand offer", suggesting a larger proportion of loose vegetables available would be important in driving overall footfall. It also highlighted the opportunity to up veg content in ready meals after sales of meat-free meals soared 15% in value in January 2018.
Research
It comes as Euromonitor data showed the UK ranks 21st out of 28 in the EU for vegetable consumption, while Lidl has teamed up with Brighton & Hove City Council Public Health and the University of Brighton to better understand veg usage among low-income consumers and progress on its own Peas Please commitments.

The discounter last year committed to include one portion of veg (80g) in every ready meal or an equivalent serving suggestion on pack; to include two portions of veg in all its online recipes and to promote veg in store, online and on printed promotional materials.

After hosting focus groups, initial findings suggested price reductions alone may have little influence on veg purchases by low-income households, while children's exposure to vegetables at school made them more receptive to parents' efforts to feed them veg at home.

The research is now set to see consumers take part in surveys and in-depth interviews to help the researchers devise strategies to overcome barriers facing low-income families with regards to veg consumption. The researchers said they wanted to use an evidence-based approach to identify what could increase future veg consumption, while avoiding unintentionally widening health inequalities.