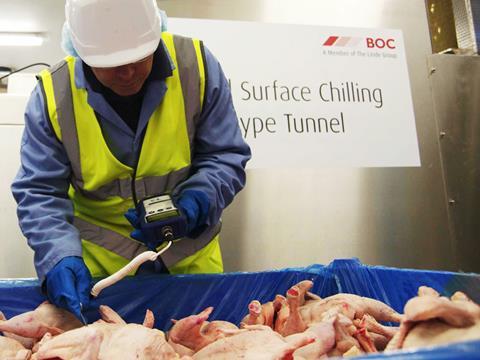 The Food Standards Agency has reached agreement with the UK's nine biggest supermarkets for them to individually publish results of campylobacter contamination on their own websites.
The first set of self-reported retailer results are expected to be published next month, said FSA CEO Jason Feeney, in a report presented to the FSA board today (20 September). The BRC would also publish retailer data on its website, Feeney added.
It marks a major shift in emphasis by the regulator - which will now focus its efforts on reducing instances of campylobacter in chickens sampled from smaller, independent shops, and from smaller processors - and means the top nine food retailers will no longer appear in the FSA's quarterly campylobacter survey from November.

The UK's biggest retailers have endured an often fractious relationship with the FSA during the past three years over the way it reported instances of campylobacter in supermarket-bought chicken, and by seeking to "name and shame" those seen as performing badly.

However, the watchdog hailed the sector in its most recent survey in June, over its "commitment and responsibility" in tackling the bug, as the percentage of whole chickens infected with the highest levels of campylobacter (greater than 1,000 colony forming units per gram) fell from 7.8% during the first quarter of 2016 to 5% during the same period this year.

In light of this improvement, the FSA would "now move to encouraging and working with smaller processors who generally have not had the same levels of improvements made to their processing lines", Feeney said.

"Although these plants account for a significantly smaller share of the market, many supply product into catering and local retailers. Therefore, interventions aimed at these food chains will be important in ensuring public health improvement is sustained in to the future," he added.
Campylobacter still a priority
However, it would still retain the right to issue comment on retailer data and performance in tackling campylobacter, Feeney said, while all reporting of results would be carried out "in accordance with an FSA-approved, standardised protocol".

Feeney's comments were echoed by FSA head of food safety Michael Wight, who while noting improvements on campylobacter reduction in the major supermarkets, insisted campylobacter was "still important and hasn't gone away".

He added: "We've done a lot of good work with the industry to raise the profile of campylobacter and awareness, but we also need to keep a watching brief on it as we don't want people to slide back. The gulf between the larger slaughterhouses and the smaller ones has widened quite substantially."

British Poultry Council CEO Richard Griffiths welcomed the announcement. "Chicken in supermarkets was by far the biggest risk of contamination, however, there were always other sources," he said.

"This will allow the supermarkets to take responsibility and allow the FSA bring others up to standard."
'Deeply troubling'
However, professor Tim Lang of City University's Centre for Food Policy, warned he was "deeply troubled" by the announcement.

"I see this as financially-driven pragmatism by the FSA, its budget is cut, its labour force, too," he said. "It argues this is all about being more efficient, not duplicating what big companies do for internal reasons. But the reality is that this means the FSA is stopping its overarching equal treatment approach and being driven into a 'light-touch' approach."

It comes as the FSA seeks to boost its budget and capabilities in the run up to Brexit. Chairman Heather Hancock warned the regulator would need to deal with a "much wider range of functions" regarding food safety once the UK left the EU, which would need to be in place "from day one".

Failure to ensure this would pose a risk to public health "and risks the ability of the UK food safety system of being judged as appropriate and sufficient by third countries taking a view on exports from this country", she added.

"More will need to be done, what we have at the moment cannot be adequate on day one of Brexit," Hancock warned.
"We are not approaching this issue from a point of self-interest. We believe it is important that there is a safe and effective unified system which encompasses a robust equivalent regulatory regime to maintain consumer confidence and protect public health, and as a consequence of that allow trade in food to operate smoothly."