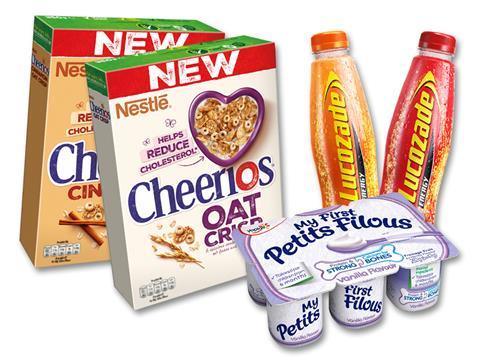 Cereals, fruit juice and yoghurts face being "demonised" and banned from in-store and TV promotions by a new government junk food classification, industry leaders have said.

Responding to a consultation launched earlier this year, food and drink industry leaders called on Public Health England to re-think its proposed shake-up of the Nutrient Profiling model, warning it will have disastrous unintended consequences for a raft of everyday products previously marketed for their healthy credentials.
Household names that could be branded "junk"
Petits Filous

Under the new NP model, Petits Filous fromage frais would fail due to its free sugars despite being already below the 2020 sugars reduction guideline target of 11g (it contains 9.9g total sugars per 100g thanks to a 17% reduction since 2016).

A further 40% reduction of free sugars would be required for it to pass, despite PHE recently featuring Petits Filous in its Smart Snack campaign.

Lucozade Ribena Suntory

Hailed by the government as a poster child of the Sugar Tax, since 2017 LRS has reduced sugar by 50% on average across its core range of drinks, removing 25,500 tonnes of sugar and 98.1 billion calories.

All LRS core brands now contain less than 5g of sugar per 100m but none of these reformulated drinks would pass.

Cheerios Oats

Cheerios Oats meets the conditions for both a 'high fibre' (9g/100g) and a 'low sugar' (4.7g/100g) claim, is green for sugars on the front of pack nutrition labelling, contains 97.8% whole grain, but still does not pass the proposed NP model.
Among those at risk of being branded as junk food are Petits Filous, which was recently held up as an example of reformulation by PHE, and Lucozade, which spent millions reformulating its entire lineup of drinks.

The Grocer revealed in March that thousands of products high in sugar faced a ban from advertising during children's TV programming and on other media aimed at kids, in a consultation launched under the government's Obesity Plan to bring the profile model into line with new targets on sugar.

PHE's consultation sets a new, stricter model for junk food classification, based on the government's target of sugar making up no more than 5% of daily intake. The consultation said 8% fewer products would pass the test.

In responses revealed this week, industry trade bodies said they believed ministers planned to use the new model to underpin a sweeping ban on HFSS promotions in store as well as on TV.
The FDF said the main sectors affected by the stricter test were "high-fibre breakfast cereals, yoghurts, fromage frais, fruit juices and smoothies, most of which would fail". Yet two of those sectors have been hailed by PHE as shining stars of its voluntary sugar reduction programme, with both breakfast cereals and yoghurts achieving the target of reducing sugars by 5% within the first year of PHE's voluntary sugar reduction programme.

The FDF claimed the new model made a mockery of the reformulation programme and destroyed the incentive for companies to spend millions on reformulation.

One leading supplier source said: "We are constantly being told from the government is that they want to look at ways of rewarding companies for reformulation. It looks like they are going to do it by kicking them in the teeth."

"Theoretical modelling by FDF members has shown that even products with 20% sugars reduction would fail the NP model," said FDF head of UK diet and health policy Kate Halliwell. "We have concerns that companies have devoted considerable resource to reformulation programmes and yet the NP model as proposed sets the bar so high that it would not enable these products to be advertised, and may act as a disincentive to further engagement with the programme."

Industry leaders also fear the new profile will go much further than being used by Ofcom to ban a raft of products from children's programmes. "The current NP model is being used beyond this scope. For example, NHS England has used the 2004/5 model to ban HFSS advertisements, price promotions, and placement of products at checkouts within hospitals," said Halliwell. "We are also aware that there are ongoing discussions in Westminster and Holyrood which may extend the NP model's use.

"The Scottish government is currently considering limiting retail promotions using the NP model. In addition, the Westminster government is considering an array of actions which may include extending marketing restrictions in both the broadcast and non-broadcast space.

She also pointed to London mayor Sadiq Khan's proposed advertising ban to tackle what he called the "ticking time bomb" of obesity, which involved using the profile for a ban on junk food ads.

The FDF claimed the new model would be used by media, health charities, and NGOs to make pejorative decisions about what was "junk food" even though the products in the firing line provided vital healthy nutrients.
The federation claimed the government needed to take a broader view on the unintended impact on diets, with the latest figures showing only 8% of 11-18 year old achieve their 5 A Day target. And just 4% of teenagers and 10% of younger children achieve the recommended fibre intakes.

In its submission, the BSDA called for an "urgent" rethink of the proposals, which it said flew in the face of health advice over fruit & veg intake and undermined the huge reformulation work carried out by soft drinks companies.

It said the proposals as they stood meant that low sugar drinks that fall below the government's Soft Drinks Industry Levy would still fail to pass the profile test (those with under 5g sugar/100ml).

"The NPM is widely used for purposes beyond advertising restrictions, including by retailers and charities, and therefore the unintended consequences of the proposed revisions are far reaching," the BSDA added. "Many soft drinks reformulated as government intended, will be defined as HFSS.

"In categorising fruit and vegetable juice as HFSS, the government risks confusing consumers with differing messaging. Moreover government risks further reducing the already low average intake of fruit and vegetables, despite the nutritional benefits pertaining to these natural products.

"Soft drinks that have been reformulated will be unfairly categorised as HFSS, thus diminishing opportunities to promote the healthier alternatives government policy was intended to encourage."

The BSDA also called for fruit & veg juice to be exempt from the new model.