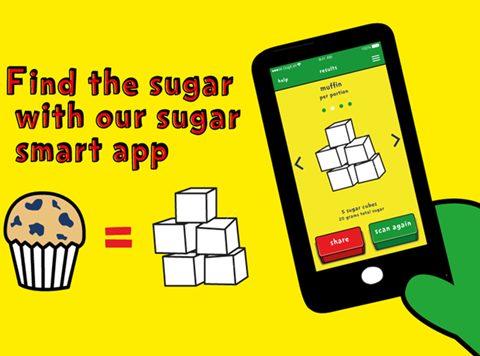 Leading supermarkets have thrown their weight behind a new app launched by Public Health England (PHE) today, which will try to persuade consumers to buy fewer products that are high in sugar.
Aldi, Asda, The Co-operative Food, Morrisons and Tesco have all backed the app, which enables consumers to scan the barcode of products to reveal the amount of sugar contained in both cubes and grams.
PHE is throwing a £5m marketing campaign behind the Sugar Smart campaign, under the banner of its Change4Life initiative, which will include major TV, digital and outdoor advertising fronted by TV presenter Jamelia.
The Sugar Smart app, also backed by Weetabix, New York Bakery Co and Flora, will allow consumers to scan the barcodes of more than 75,000 food and drink products and also share a 'sugar reveal' with friends and family online.
Products in the firing line include chocolate bars, with six cubes of sugar, cartons of sugar-added drinks containing five, and full-sugar cola with nine.
Supermarkets will be helping to hand out five million Sugar Smart packs to parents as part of the plan, with Jamelia also fronting a series of online education films alongside The Sun newspaper's resident nutritionist Amanda Ursell.
The move comes as David Cameron draws up plans for a childhood obesity strategy, which will include a raft of proposals to crack down on sugar.
The government has said it will consider encouraging the launch of a new voluntary system of labelling by supermarkets and suppliers on the front of products, although there has been a debate about what the most effective symbol would be.
In October, the House of Commons health committee urged the government to take up an idea fronted by Jamie Oliver for the amount of sugar in products to be labelled in teaspoons.
However, public health minister Jane Ellison insists Change4Life's use of cubes is a "powerful" way to reduce sugar consumption, in addition to the existing traffic-light labelling scheme.
In launching the app, PHE has in effect hijacked an initiative by Consensus Action on Salt and Health (CASH), which a year ago launched the FoodSwitch app, under licence from the George Institute for Global Health, to provide instant nutritional advice on more than 80,000 packaged food and drinks in the UK.
The supermarkets' backing of the scheme comes after The Grocer revealed last month retailers were calling on Cameron to set mandatory targets for reformulation, which if taken up could see sugar levels in products reduced by up to 50%.
However, the Food and Drink Federation has warned the plans risk sparking legal challenges across Europe and predicted regulatory chaos unless the government stuck to a voluntary approach.
Speaking at the launch of the new app, Dr Alison Tedstone, chief nutritionist at PHE, said: "Children aged five shouldn't have more than 19g of sugar per day - that's five cubes, but it's very easy to have more.
"That's why we want parents to be sugar smart; our easy-to-use app will help parents see exactly where the sugar in their children's diet is coming from so they can make informed choices about what to cut down on."