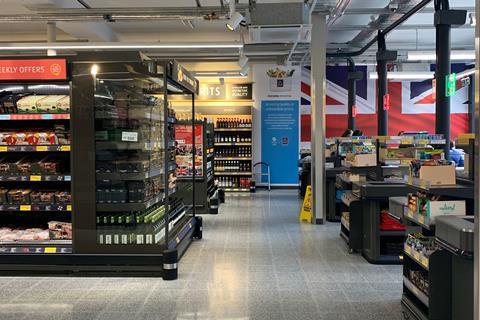 It's all so topsy turvy. The Co-op is moving into online shopping, it announced today. But online giant Amazon is recruiting in droves for its rumoured bricks and mortar play in grocery. Meanwhile, M&S Food boss Stuart Machin has confirmed that, in addition to its online move, it's planning to open new and bigger Food Halls in new and existing sites. And that's just one week's worth of upheaval.

So what to make of the launch, also this week, of the new Aldi Local fascia? It's an avowedly bricks and mortar solution. Is it in danger of being left behind as it continues to treat online as a sideshow? Not at all. Based on the evidence of our trip to the store, it's a potentially significant move. As proof of the journey Aldi has been on to evolve its offer, this new smaller format sub-brand has a 'slimmed-down' range of 'only' 1,500 lines. (It's also a compliment to the Co-op that the fascia bears an uncanny resemblance, but then Aldi is never ashamed to copy success.) And this is not its first foray into convenience. It has four other small footprint stores around the capital. But it's significant that on this new opening it has decided to badge it under a sub-brand. That suggests it's confident it can take this format forward and will be looking for new locations. (And given the state of the high street it doesn't even need to trouble the CMA with an acquisition.)
The trick here isn't just cramming so many SKUs into a smaller format store. It's having the same number of staff and tills as a standard Aldi. This store is around the corner from a full-size Sainsbury's. It would have had to test this format pretty thoroughly to be confident it had the basket spend to cover the high staff costs before it put the Aldi Local badge on it. And a confident Aldi is a scary sight.

Indeed, if Aldi can keep the prices at the same level as its bigger stores - and on the evidence of our store visit a lot of them are the same price - Aldi Local is not just a new threat to big sheds, it's potentially an even bigger threat to convenience stores, because the price differential will be even more marked. I wonder if CMA boss Andrea Coscelli will be shopping there.