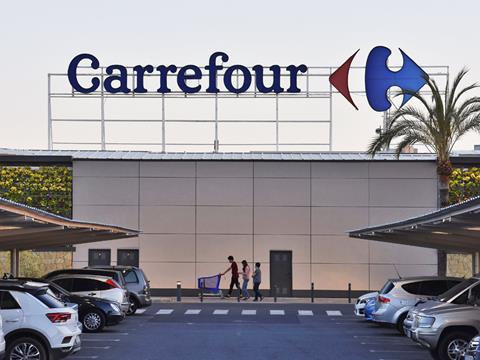 So, Tesco and Carrefour are signing up to a petite entente cordiale (ahead of Bastille Day and Brexit) right under the noses of competition watchdogs, and hoping they won't notice. It's amazing no one thought of this before - though, actually, Auchan, Casino, Schiever and Metro did. Only last week in fact.
Still, the short announcement (on Monday morning) came as a bit of a bolt out of the blue, and prompted many more questions than it provided answers.
Why make the announcement at this stage when all the detail is still to come, for example? How will it work? Will the Groceries Code Adjudicator have any jurisdiction over the arrangements? What are the tax implications? And will it lead to a fully blown merger in the fullness of time?
In the void, analysts and commentators were left to speculate, and chose to focus mostly on the reasons for the partnership.
And there's no shortage of those. There's the consolidation of the supplier base. As Sainsbury's CEO Mike Coupe has correctly identified, multinational suppliers are making a lot better margins than supermarkets. And our latest OC&C Global 50 report, in this week's issue, shows strong growth among the world's largest consumer goods firms as they've scaled up M&A activity to the highest level in 15 years.
Talking of Mike Coupe, no doubt Jasda is also focusing the mind, at least for Tesco. It's not just the prospect of being the number two in this market (for the first time in 25 years). It's the wider partnership Jasda could forge with Walmart, especially on the GM side. And talking of GM, Amazon's Marketplace partnership model has proved so successful big four rivals have thrown the towel in in certain categories, considering it "a zero sum game" trying even to compete.
Above all, this feels like a response to the discounters. Tesco is big over here but in buying power terms, it has a smaller share of the market than Lidl (6%) and Aldi (5%) according to Euromonitor. If it can successfully team up with Carrefour (informally, and without attracting the attention of competition watchdogs), it may at last be able to buy certain ambient goods (on which it has been uncompetitive) more cheaply than the discounters (even if its cost base is higher) as Tesco-Carrefour's combined share is 8%.
It's a big 'if', though. Not only is there the competition issues to manage. There's also a high degree of difficulty: whether via third-party buying groups or direct partnerships, deals are hard to pull off sustainably. They CAN work. But they also introduce complexity. When Tesco built its global procurement operation (under Philip Clarke, but before he became CEO), local buyers found it really difficult to manage the process. You're working against the grain of human nature so it can queer the pitch and cramp a capable buyer's style. So Dave Lewis pulled the plug on them, cutting overheads, and Tesco's prices have been far more competitive as a result.
More recently, Tesco's buying has started to become more complex again, as chief procurement officer Jason Tarry has split the function, with ranging and customer analysis separated from negotiations and supply chain. So this could mean further complexity.
Also, politically incorrect as it may be to mention this but there also has to be a question mark over the cultural difficulties of working with the French!
If nothing else, the approach to buying at Carrefour is also completely different: they negotiate for a three-month period (in conditions that supposedly make Discounter House look like the Ritz) before one-year contracts are drawn up. And there's far less reliance on promos as they like to maintain cash margin. Which might be fine for EDLP categories like tuna and washing powder but would be a major challenge in impulse.
On the other hand, an alliance might help Tesco and Carrefour to lower internal costs (in areas like technical teams), as well as achieving better prices. There might also be tax benefits in setting up a joint buying function in a lower tax jurisdiction like Switzerland (but would Lewis want to avoid tax?) And for sure there could be pockets of expertise that are complementary, as well as geographies. In short, if they can make it work, it could have a big influence on the market (and on suppliers of course). But it's a big if.