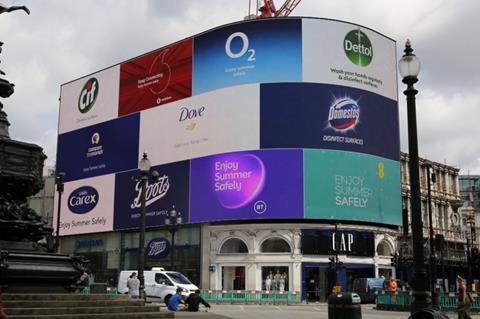 Some of fmcg's biggest household brands have teamed up with businesses across hospitality, retail, telecomms and finance to support the UK government's #EnjoySummerSafely campaign.
The likes of Carex, Dove, Dettol, Cif and Domestos are due to launch initiatives urging shoppers to practise good hygiene behaviours and 'Enjoy Summer Safely'.
It marks the first time the hospitality industry and leading brands have come together in this way, a campaign spokeswoman said.
The campaign, which will run until August, is designed to encourage a safe and responsible return to summer and leisure activities, be it going shopping, enjoying the beach and tourist attractions, or visiting pubs and restaurants.
It launched in line with the reopening of pubs and restaurants last weekend, in a bid to celebrate the opening of key businesses and encourage the public to get back to the things they have missed, whilst following Covid-19 health and hygiene guidelines.
It will see a new TV advert as well as print, radio, OOH, social and digital display advertising.
The ad is said to "mark a change in the tone" of recent coronavirus advertising, with a "positive and uplifting" message featuring the reopening of real businesses.
Advertising association president Keith Weed said: "In the same way brands helped in communicating the lockdown, they can also contribute to helping everyone re-engage with everyday life, safely.
"By communicating the importance of washing your hands, cleaning surfaces and keeping safe distances, brands can help mainstream these important messages."