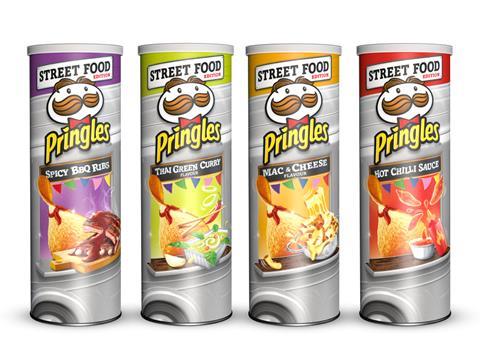 Pringles has ramped up its promotional activity for the summer, with the launch of limited edition variants and an on-pack giveaway.
Four street food-style flavours – Spicy BBQ Ribs, Hot Chilli Sauce, Mac & Cheese and Thai Green Curry – will be available until August (rsp: £2.99/200g). They were aimed at "barbecues, long summer evenings, garden parties and the festival season", and had been added because "street food is in the top five growth cuisines in the eating out sector", said Pringles.
"We see a growing demand from consumers to widen our flavour portfolio to bring the taste of their favourite cuisines home," added Clare Furlonger, snacks marketing director at brand owner Kellogg's UK & Ireland.
Pringles plans to support its NPD with an "innovative" digital campaign, working with third party endorsers on social media.
The brand has also launched its Music Speakers push for the seventh year running. The £2m activity will give away a portable wireless speaker with the purchase of three 200g cans. A version of the promotion will also appear for the first time on Pringles' 40g can – offering shoppers the chance to win a wireless speaker every hour via an on-pack code.
Set to be backed by a TV ad from 31 July, this summer's drive "coincides with the growing popularity for wireless devices, as we listen to music, sports and events when and where we choose", said Furlonger.