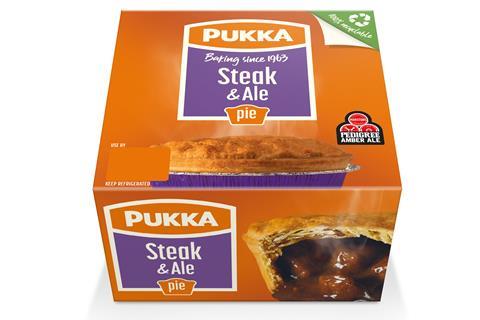 Pukka has given its Steak & Ale pies a new recipe.
It has reformulated the pies with Marston's Pedigree Amber Ale, which it said gave them "a rich ale flavour in the gravy".
The pie contained "the same high-quality chunks of beef" and was still "encased in Pukka's signature golden puff pastry", it added.
The changes have been highlighted with a new purple foil case on the pie and a purple accent on the front of packs.
Pukka head of marketing Rachel Cranston called the collaboration "a great fit for Pukka".
The new pies will hit Asda and Ocado next month (rsp: £1.89/210g).
Elsewhere, fellow pie maker Higgidy has detailed plans to donate some 73,000 pies to FareShare, the charity that fights hunger and tackles food waste in the UK.
It pledged to match "every Higgidy pie bought in supermarkets across the country" during British Pie Week, which runs from 2 to 8 March, with a donation in a bid to "spread the feelgood feeling". It would also fund an additional 20,000 meals to those in need, it said.