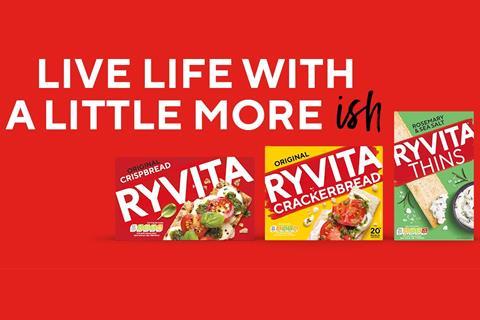 Ryvita is ploughing £3m into a major rebrand to distance itself from dieting and diet culture.
The brand has returned to TV for the first time in six years to unveil its "modern" redesign and new positioning around "taste and enjoyment".
The ad features a woman adding various toppings to Ryvita at different times of the day.
It states Ryvita is "about living well and eating well, with a little room for 'ish'… Because 'ish' never judges how thick you slather… Healthy-ish. Moreish. Wonderfully weird-ish".
The campaign aimed to "showcase how versatile and balanced our products are and how a fully loaded Ryvita is healthy, natural, delicious and perfect for many occasions", said senior brand manager Nikki Wilkinson.
Despite being "an iconic British brand", it had become "too focused on the health agenda".
"People didn't see Ryvita as being relevant to them; we simply didn't come to mind," Wilkinson said.
As trends had "changed from diet and deprivation to taste and enjoyment", the new image would encourage shoppers to " own being imperfect and live with balance" she said.