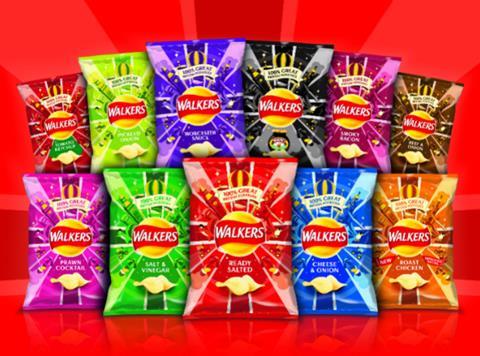 Walkers has kicked off 2019 by unveiling a new look across its core range of crisps – which the snack giant says is its biggest design change of the past 10 years.
Rolling out now, the revamped bags feature "a more premium finish" and the addition of the front-of-pack strapline '100% Great British potatoes'.
The make-up of the plastic crisp bags has not changed, meaning they can still be recycled via Walkers' tie-up with Terracycle, which began last month, allowing shoppers to return their empty packs via a freepost address or public drop-off point.
Walkers had "tweaked and fine-tuned our packaging design throughout the years" it said. "However, this latest change is the biggest adaptation we have made to our portfolio over the last decade."
It will be backed by an ad spend, details of which are expected later this month.
Andy Hawkswell, marketing manager at Walkers owner PepsiCo, claimed the revamp would make it "easier for consumers to locate on shelf and drive a stronger emotional connection with the brand".
He added: "We are confident the new packaging will grab the attention of shoppers and help drive sales for retailers. It is set to be an exciting year for Walkers, and we look forward to sharing further information as the year unfolds."
The news comes after the Leicester-based crisps maker last year saw its value sales slump 4.1% across UK grocery to £424.4m, while its core lineup lost £18.2m [Nielsen 52 w/e 8 September 2018].