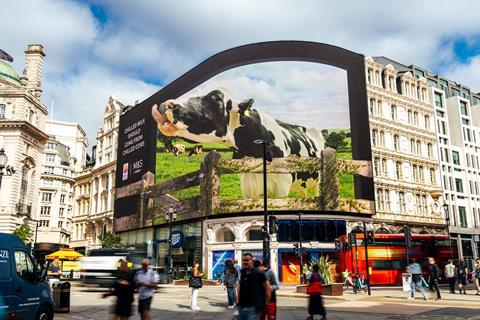 M&S has launched the "world's first live-action 3D digital out of home" marketing campaign to promote its RSPCA Assured milk.
The campaign marks a "significant leap forward" for 3D digital billboards, the supermarket said, because the visuals were captured fully 'in camera' without the need for CGI.
Filmed on-site at a dairy farm owned by one of M&S Food's milk suppliers in Northern Ireland, the campaign features a cow called Daisy who leans out from the screen and sticks her tongue out "leaving an indelible impression on viewers".
The tagline reads: Chilled milk should come from chilled cows.
The 3D billboards are running on four large-format screens: The Screen @ Arndale in Manchester and three London locations – Four Dials at Westfield Stratford, Canary Wharf, and at the Piccadilly Lights in Piccadilly Circus.
The campaign was created and delivered by Mindshare, Kinetic, and DOOH.com.
"3D digital out of home is a much more effective way for brands to stand out, but until now such campaigns relied on CGI," said DOOH.com CEO and co-founder Andrew Newman.
"On this occasion, using CGI would lack authenticity. So, to stay true to the brief, the only way to film this first-of-its-kind 3D illusion was totally in-camera and on location," he said.
"We even worked with expert animal trainers at A-Z Animals to earn the star Daisy the cow's trust, so that after eight days of training, on the day of the shoot she knew her walking route, where to stand, and how to stretch her head out so she never broke the edge of frame. All of this was captured in one 20-second take," Newman added.
The 3D billboards form part of M&S's larger 'Farm to Foodhall' marketing campaign, and run alongside a TV and online campaign fronted by celebrity chef Tom Kerridge, exploring the farms that supply M&S Food.
"We're incredibly excited to launch this innovative world-first DOOH campaign, highlighting that M&S is the only national retailer with 100% RSPCA Assured milk," said Katie Hooper, advertising manager at M&S Food.
"Because when we say 'this is not just food', we really mean it," she added.