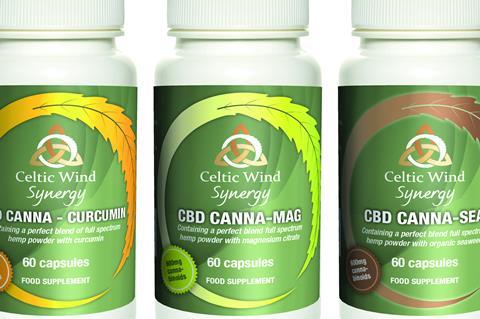 Irish CBD supplier Celtic Wind has unveiled Synergy, a range of hemp-based food supplements.
The three-strong lineup of Mag, Curcumin and Sea was aimed at "health-conscious millennials, who lead busy, active lives and are looking for a simple way to get all the nutritional properties of CBD on the go" said Celtic Wind.
Available in a bottle of 60 capsules, the plant-based Synergy supplements are made with 600mg of full-spectrum hemp CBD and the likes of kelp and magnesium.
Canna-Mag (rsp: £44.99) is intended to promote healthy heart and bones; Canna-Curcumin (rsp: £59.99) promises to be an anti-inflammatory and antioxidant source; and Canna-Sea (rsp: £39.99) is "a superfood supplement designed to nourish the whole body".
Each created "an entourage effect – where the CBD interacts with naturally occurring cannabinoids in the body to nourish and nurture wellbeing" claimed Celtic Wind, which was looking to "grow its share of the £300m CBD market".
The brand's founder and CEO, Paul McCourt, added: "Over half of Brits (55%) regularly take a supplement – with 63% now taking more health supplements than they did five years ago. The popularity of CBD also shows no signs of waning, so we wanted to capitalise on the growth of both areas by providing consumers with the best of both worlds."
Synergy's launch comes after Celtic Wind extended its CBD Multi-Complex Hemp Oil range in May, rolling three SKUs into Lloyds Pharmacies.
William Reed - the publisher of The Grocer - has launched a new CBD summit. For more information visit cbd-global-summit.com