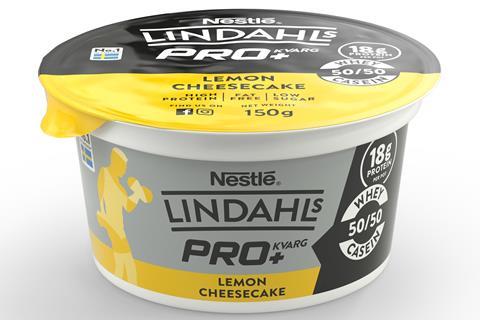 Lactalis Nestlé Chilled Dairy is looking to lure-in gym-goers with an expansion of its Lindahls brand.
The four-strong lineup, which falls under a new sub-brand called Nestlé Lindahls Pro, had been "specifically designed for regular gym-goers", it said.
It comprises two flavoured pots and two ready-to-drink bottles, each with a "unique" 50:50 mix of whey and casein proteins, which the supplier said may help maintain the "delicate balance between protein synthesis and the prevention of protein breakdown in the body".
The pots – Strawberry & Lime Pie and Lemon Cheesecake – are billed as having a "soft and creamy texture" as well as being fat-free, low in sugar and packing in 18g protein per 150g pot.
They have launched into Morrisons (rsp: 95p/150g).
Meanwhile, the RTDs – Raspberry & Vanilla and Tropical – are said to be low in fat and contain 23g protein per 250ml bottle. They will hit Asda from July (rsp: £1.25/250ml).
Lactalis Nestlé said both lines were "the perfect snack for your gym bag, to keep in the office fridge or stock up at home".