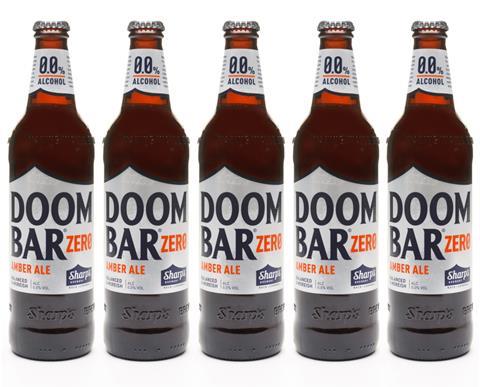 Molson Coors is taking its Sharp's Doom Bar ale brand into low & no with Doom Bar Zero.
The 0.0% brew is billed as having "a sweet roasted malt flavour and subtle green hop aroma that has become Doom Bar's trademark", while also "offering its own unique flavour profile with hints of succulent dried fruit and a subtle bitterness", said the brand.
It has rolled into Waitrose, Sainsbury's, Morrisons and Asda, with Tesco and Booker to follow in September.
The Sharp's Brewery team had "been working for more than two years to develop a pioneering brewing method which ensures that Doom Bar Zero retains a similar flavour profile and stays true to the style of the successful Doom Bar brand while achieving 0.0% alcohol – significantly more difficult to brew than 0.5%", said the brand.
Sharp's marketing controller James Nicholls said: "We feel that Doom Bar Zero redefines the quality standard of the category, and are proud that as a truly alcohol-free option, Doom Bar Zero can fit your lifestyle, when it suits you."
Sales of low & no alcohol drinks have surged in 2020 despite Brits being confined to their homes for large parts of the year: Waitrose, for example, reported a massive rise in shopper demand last month, with low & no beer sales up 50% and alcohol-free spirits up 49%.
William Reed – the publisher of The Grocer – has launched an exhibition exclusively for the low and non-alcoholic drinks sector. For more information visit low2nobev.com