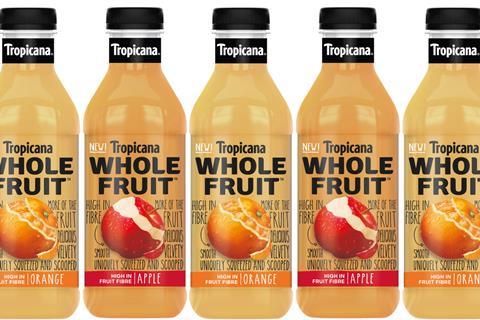 Tropicana has added Whole Fruit – a two-strong range of high-fibre juice drinks.
Orange and Apple had been "several years in the making" said Tropicana. They were created using a "new and unique process which helps retain more of the whole fruit". As a result, each 150ml serving provided one of the 5 a day, and contained "over 50% more fibre than fruit juices and smoothies on average".
Produced in the UK, Whole Fruit had been launched to help Brits "struggling to reach the recommended daily intake of 5 portions of fruit & veg" according to the PepsiCo brand. "Research also shows that over 90% of us are failing to achieve our recommended daily intake of fibre."
The new drinks were made from "everything but the pips and peel" of the fruit, said Caroline Wilding, marketing manager for juices at PepsiCo. The process retained fibre, which was "a key nutrient lost during traditional juicing".
The Whole Fruit duo are available in 150ml (rsp: £1.49) and 750ml (rsp: £3.29) plastic bottles, as well as a 4x150ml multipack (rsp: £3.29).
The launch will be supported by a multimillion-pound campaign over the summer, spanning TV, social media and in-store.