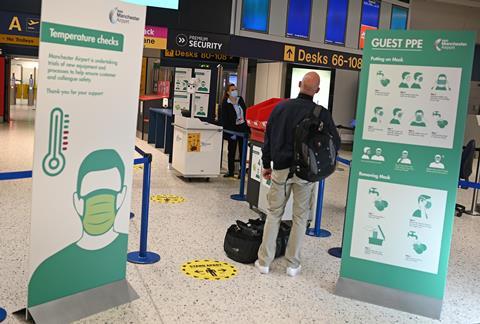 Boris Johnson announced plans to impose a 14-day quarantine on travellers last Sunday

Food industry bodies have warned a quarantine could bring factories grinding to a halt

British Apples and Pears have launched a recruitment campaign designed to mobilise the UK's workforce
Defra is close to securing an exemption for large parts of the food industry from the prime minister's proposed quarantine measures for people travelling to the UK, The Grocer can reveal.

Boris Johnson announced plans to impose a 14-day quarantine on travellers last Sunday as part of his plan to ease the lockdown, though many measures remain in place in the devolved nations.

The move was met with dismay by the UK's manufacturing industries this week, with food industry bodies such as the FDF joining other sectors in warning a quarantine on often foreign maintenance staff in particular could bring factories grinding to a halt.
"Dozens of factories will have regular need for engineers to maintain production, and the only way is if you get an engineer from the machinery company," said FDF chief executive Ian Wright. Another source described the proposals as a "nightmare" for the farming sector and "pointless", given the fact arrivals from France and Ireland would continue.

Concerns have also been voiced by a fresh produce sector already struggling to attract enough labour to fulfil the needs of the UK's harvest this year.

However, The Grocer understands environment secretary George Eustice is pushing for exemptions for hauliers, seasonal workers and specialist engineers servicing the food sector.

Defra declined to comment on the quarantine plan. When approached on Thursday, a Home Office spokeswoman said the government would set out its exemptions in "due course".

But the "critical" need for an exemption to the quarantine proposals had been made clear to Eustice, said British Growers Association CEO Jack Ward, who suggested Defra had also been "part of the process" of making the case to the Home Office.
Read more
Growers were hoping "common sense and pragmatism will prevail", added NFU horticulture board chair Ali Capper, who stressed the sector had already been voluntarily imposing quarantine measures on migrant workers "whether they are from Rochester or Romania".

"If a cohort of workers arrive on a farm they will already be required to keep separate from the existing workforce until we are confident there is no Covid issue," said Capper, who added the sector continued to have concerns over the levels of staff it was able to attract - despite a massive recruitment drive for UK workers in recent weeks.

It comes as grower body British Apples and Pears this week launched a recruitment campaign, designed to mobilise the UK's workforce, with Brits encouraged "to take up the challenge to help bring in the apple and pear harvest in our orchards and support our farmers' efforts to get fresh fruit to the nation".

BAP estimates there could be some 10,000 picking jobs in its members' orchards from August to October, with a smaller number available in June for apple thinning and summer pruning in orchards.

The NFU's Capper, who is also executive chair of BAP, said the campaign was designed to put people looking for work in direct touch with apple and pear growers. More information can be found at britishapplesandpears.co.uk/job.