The day Archie Norman took over as chief executive of Asda in 1991 has gone down in retail mythology. According to the legend, Norman issued a stark warning to colleagues in the business, which was on the brink of collapse: "Today is day zero in our recovery programme. This business is in poor shape and must change sharply to survive." Less than 10 years later, Asda completed a sale to Walmart for £6.7bn. And Norman is revered for leading one of the UK's great business turnarounds.

Unsurprisingly, last week's appointment of Norman as M&S chairman was widely regarded as a coup, with share prices rising 3.5% on the morning of the announcement. So what will Norman's priorities be when he starts his role in September, and what will they mean for a British institution in turnaround?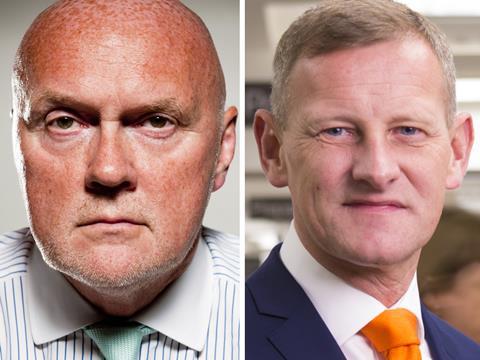 Priority 1: Establishing a working relationship with Rowe
M&S is far from the disaster zone Norman faced when he took the helm at Asda. Indeed, M&S shows signs of a resurgence under lifer and CEO Steve Rowe, who is confidently pursuing a strategy to increase food stores and reduce its clothing and home estate to leave "fewer, more inspirational" branches.
Norman has form in managerial partnership, having reinvigorated Asda alongside Allan Leighton, hired as marketing director a year after taking the helm. One Asda veteran says: "I see definite parallels between Norman and Rowe and Archie and Allan back in those days. In the early 1990s Allan was the culture of Asda, Archie was the cool steel. They were very different personalities but it worked."

A former M&S executive adds: "It you look at how the Asda turnaround worked, it was Archie who built the plan and then Allan who executed it. Archie and Allan had very complementary skills and I can see this happening with Rowe."
Priority 2: Balancing fashion and food
Just days before Norman's appointment, M&S brought in Halfords chief executive and McDonald's veteran Jill McDonald to head its clothing, home & beauty division. The high-level appointment shows M&S has far from given up on its GM side, which is starting to pick up after years of underperformance. "The new management team's top priority has to be transforming the performance in fashion," says one former M&S exec. "With another strong CEO in Jill, but one with no fashion experience, it will be interesting to see how Archie advises her."

Norman also arrives at a potentially pivotal time for M&S's food strategy. Last month, it revealed plans to open 36 new stores, 34 of which are food only, and close six existing branches over the next six months as part of its five-year estate revamp.

Plus, two weeks ago Rowe announced a soft trial of online grocery this autumn and rumours are circulating over a partnership with Ocado.
Archie Norman's career highlights
1984: Begins career at management consulting firm McKinsey & Company
1991 Takes the helm at Asda, where he led one of the UK's greatest business turnarounds
1998 Becomes deputy chairman of the Conservative Party, going on to hold the post of shadow secretary of the environment, transport and the regions in 2000
2007: Assumes directorate and advisory role at Australian grocer Coles Group and vows to tackle challenges of "new supermarket era"
2010: Takes chairman role at ITV, a role he held for six years
2017: Succeeds Robert Swannell in M&S chairman role
Priority 3: Cutting non-essentials
The former Asda veteran says Norman will help Rowe to concentrate on the core issues facing M&S. This means discarding all non-priorities from its strategy.

"Back in his days at Asda, there is a story that Archie did not think Asda should be carrying ethnic lines because it was not part of the core offering. So it stopped them. Times have changed now, of course, but I think he will bring that focus in the same way as Dave Lewis has at Tesco and Dave Potts at Morrisons. It's about knowing what your vision is for the core priorities of the businesses and sticking to it. That's good old-fashioned retailing and that's what he's so good at."
Priority 4: Moving from reactive to proactive
One former supermarket MD is convinced Norman's appointment is a masterstroke due to his ability to look forward. "Archie is a strategist and he clearly sets out what he expects of his team. He will bring all the experience of his retail career all over the globe to M&S.

"Over the years, it has been reactive to the changes in the market - jumping from one crisis to the next - but now they have someone with a consummate skill in anticipating where the market will be going and gearing up for that. M&S, I have no doubt, will be less reactive and with that he will bring a huge amount of confidence from shareholders."

It might not be day zero, but what happens to M&S from 1 September will be fascinating to watch.