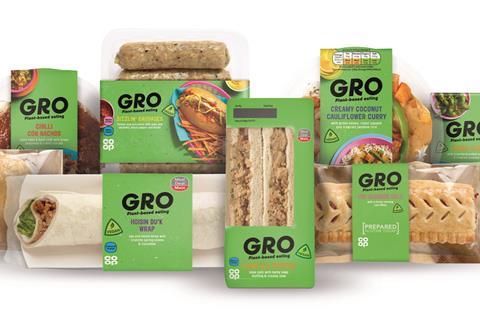 The Co-op's new vegan range Gro has made a strong debut in the independent channel.
The own-brand range, which launched last month to coincide with Veganuary, has already been listed by 1,900 Nisa retailers.
Nisa told The Grocer overall sales of vegetarian and vegan lines were up 30% year on year, and it expected this to increase further with the introduction of Gro.
"More than half of shoppers now say they would like a greater choice of more convenient vegetarian and vegan food options, and with that in mind we have increased the amount of plant-based ready meals and pizzas available with some great meals in the Gro range particularly," said a Nisa spokeswoman.
"We're confident that, working with the Co-op, we are offering Nisa partners the opportunity to be market leaders within the sector for the meat-free category and the addition of the Gro range makes our offer even more compelling."
The top five selling lines in the range to Nisa retailers so far are the falafel and wrap, chilli con nachos, creamy coconut cauliflower curry, Kashmiri spice pizza and the Incredible Burger.
"The Gro range has been great for us as a store as it has shown our customers we can adapt to their needs, especially in January as many people are trying Veganuary," said Amrit Singh of Nisa High Heath in Walsall.
"The sandwiches and wrap are working best for us as it is a great vegan solution for customers on the go."
Dan Brown, MD at Pinkie Farm in Musselburgh, added: "We thought we'd give the Gro range a try and have had a fantastic response from customers. We have now made the majority of the range a permanent feature within the store, with the food to go and ready meals being particular favourites."