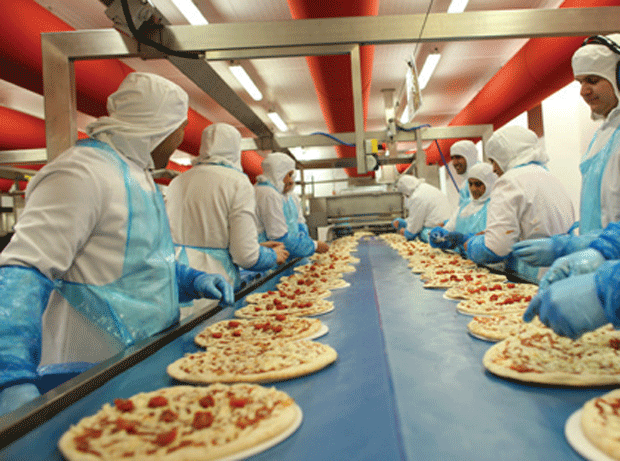 2 Sisters owner Boparan recorded a third quarter profit after heavy losses last year as like-for-like sales edged up by 1.1%.
Boparan reported a third quarter profit after exceptional (before interest and tax) items of £16.3m for the 13 weeks to 2 May, turning around a £14.7m loss in the same period last year. After interest, tax and exceptional items it recorded a 0.5m profit compared to a £28.6m loss last year.
Like-for-like sales were up 1.1% to £798.7m, but total sales fell 3.9% to £779.7m. Like-for-like operating profit edged down by 2.5% to £18.9m, though its margin remained at 2.4%.
CEO Ranjit Singh commented: "This is an encouraging performance and in line with expectations. It underlines our commitment to focus on building a better business which leads the food sector and is passionate about putting customers and consumers first."
In its protein division, the business continued to feel the effects of the Avian Flu outbreaks and negative consumer sentiment following FSA campylobacter reporting during the quarter. However, like-for-like revenues for the total protein division were up 0.8% to £560.9m and Boparan said it "now sees positive volume trends starting to return in poultry as deflation, passed on to the supermarkets, is starting to filter through to consumers".
Chilled saw like-for-like sales continue to improve versus last year to £145.3m, up 1.9%, driven by a strong performance in our ready meals division. Branded saw like-for-like revenues grow by 2% to £92.5m.
Boparan also announced a number of operational initiatives, including streamlining capacity and creating cost efficiencies in protein, investing in ready meals to grow its portfolio and investing in frozen branded pizza capacity to launch more ranges.
Singh added: "We have said targeted investment will be the key to our future growth, and I'm pleased to announce plans for continued investment in our protein business with further plans being finalised for investment in our chilled division. These investments will take our performance and ranges to the next level.
"In our UK poultry division, we have reviewed our operational configuration resulting in announced changes that will go a long way to offsetting the external challenges we face in this market.
"In our Chilled business, we are looking at further investment in capacity to enable us to meet our growth ambitions, and we can report a good performance by our Branded division.
"All this activity sets a very solid foundation for future growth of the business."
The group's net debt to EBITDA ratio increased to 4.87 times (from 4.58 times last year) and Net debt at 2 May 2015 was £742.3m, including cash balances of £96.0m (up from net debt of £702.7m with cash of £127.5m in Q3 2014).