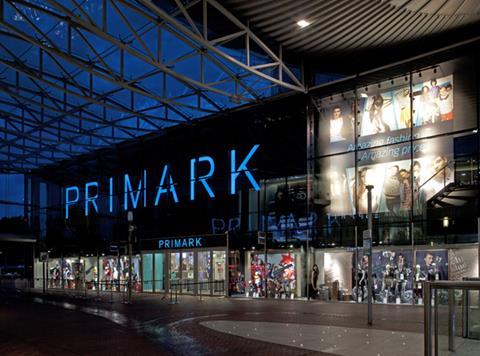 Top story
Associated British Foods (ABF) has posted a significant fall in first half profits as it was forced to take a £284m writedown on Primark stock, but the rest of its business continues to perform despite the pandemic.
Announcing its results for the six months to 29 February, ABF said there was very little effect of COVID-19 on its first half performance, albeit trading in the second half will be "radically different".
Revenue for the group of £7.6bn was 2% ahead of last year at actual exchange rates and 3% ahead at constant currency.
Adjusted profit before tax of £636m was 1% ahead of last year at actual exchange rates.
However, statutory operating profit for the period reduced by 35% to £349m as a result of exceptional items of £309m charged in this half year compared to £79m in the same period last year.
Following the closure of its stores the level of inventory at Primark increased significantly as sales ceased immediately and the inbound supply chain continued for several weeks with goods in transit, resulting in an exceptional charge of £284m.
Additionally, a fire at its Speedibake Wakefield facility resulted in a charge of £25m.
As a result, statutory profit before tax decreased by 42% to £298m.
On a divisional basis, ABF said grocery achieved "excellent profit growth" of 13% on revenues that edged down 1%.
Higher sales at George Weston Foods in Australia, AB World Foods and Silver Spoon offset the expected sales decline at Allied Bakeries and a slow start in Thailand for Twinings Ovaltine.
Twinings revenues were ahead of last year, driven by growth in black teas, excellent sales of herbal teas and new ranges of infusions in the US, UK and France. Ovaltine revenues were held back by a slow start in Thailand, partially offset by foodservice distribution gains in China and new products in Brazil and Switzerland.
Its previously troubled sugar division is on track to deliver a material improvement in profit for the full year and Primark profit was ahead of expectations.
Primark "performed well" before the shutdown with market share growth in the UK, and a good contribution from the selling space added over the last year.
CEO Geroge Weston said: "The group delivered an encouraging trading performance in the first half.
"The rapid spread of COVID-19 has impacted all of our lives and the human tragedy that continues to unfold has shocked and saddened us all. We are a strong, diversified and resilient group. Our people are working hard to maintain supply from our food businesses.
"Primark is managing through an extraordinarily challenging period after all of its stores closed in March and our management response to mitigate the cash outflows was swift and proportionate. Although uncertainty remains, we have the people and the cash resources to meet the challenges ahead."
ABF said its second half forecasts for the aggregate operating result for its sugar, grocery, ingredients and agriculture businesses in the second half is unchanged.
However, at Primark the timing of the reopening of the stores however remains uncertain; moreover, the process of reopening, once it begins, is likely to be complex. As a result, ABF said it is too early to provide earnings guidance for the remainder of the current financial year.
As a result the board has decided not to declare an interim dividend to "focus on managing the group's cash outflow in the second half of this financial year".
ABF shares have dropped 6.1% to 1,865p on the news, albeit still above the stock's March low of 1,554p.
Morning update
Danone (BN) has reported solid growth in the first quarter of the year, but withdrawn its full year guidance as a result of the coronavirus crisis.
The French dairy giant said that in the first quarter of 2020, consolidated sales rose 3.7% on a like for like basis to €6.2 bn, with 2.9% growth in volume and 0.8% growth in value.
Reported sales were up 1.7%, including a negative scope effect (-1.7%) mainly reflecting the deconsolidation from April 1st, 2019 of Earthbound Farm, a negative impact of currencies (-0.9%), as well as a 0.5% organic contribution of Argentina to growth.
Dairy and plant-based saw sales grow 4.6% on a like-for-like basis, including a 2.8% increase in volume and 1.9% in value, benefiting from the triple effect of low exposure to out-of-home channels, growing at-home food consumption in March and some pantry loading benefits in Europe and North America.
Specialised nutrition saw net sales up 7.9% on a like-for-like basis, with an increase of 5.2% in volume and 2.7% in value, boosted by stock loading in the second part of the quarter, with a contribution from all regions.
However, waters saw like for like net sales slump 6.8%, with a decline of -0.9% in volume and of -5.9% in value, reflecting the negative mix effect from decreased demand for high-value small-size formats in foodservice and impulse channels where sales are down at a steep double-digit rate.
Despite the solid first quarter performance, Danone has withdrawn its 2020 guidance as a result of the "unprecedented pandemic".
The group said that and the uncertainty around the severity, the duration, and the multitude of te coronavirus' impacts across different markets, it is not in a position to accurately assess its impact on its 2020 financial performance beyond the initial pantry loading trends observed in the month of March in Europe and North America.
"It is likely that there will be significant differences on the impacts, depending on food habits, and lifestyles and the terms of local and national government approaches to lockdown execution and exit," the group stated.
"The current lack of consensus around how the pandemic will develop and when it will end, its mid-term macro-economic consequences, and its impact on people's behaviours and income, adds further complexity to the prediction of the business."
"We expect both global supply and demand to be extraordinarily volatile and unpredictable for the rest of the year, with a likely impact on the cost base of the actions taken in order to preserve our people safety and ensure business continuity and product availability, including additional safety, industrial, and transportation costs."
Danone shares are down 1.1% to €63.88 so far this morning.
On the markets, the FTSE 100 has opened the day down 2% to 5,695.7p after the collapse in global oil prices overnight.
Early fallers include Marston's (MARS), down 5.9% to 36.4p, Naked Wines (WINE), down 5.4% to 300p and C&C Group (CCR), down 3.3% to 195.8p.
Risers so far today include Bakkavor, up 5.8% to 75p, McColl's (MCLS), up 4.3% to 46p, Hilton Food Group (HFG), up 2.7% to 1,078p and Premier Foods (PFD), up 1.8% to 43p.
Yesterday in the City
The FTSE 100 started the week up 0.5% to 5,812.8pts yesterday.
Premier Foods (PFD) was one of the day's major risers, jumping 29.1% to 42.2p (having sunk to 17.8p last month) after announcing a reorganising of its pensions obligations as a result of its year-long strategic review.
Other major risers yesterday including Total Produce (TOT), up 7.5% to 86p, Science in Sport (SIS), up 7.3% to 37p, McColl's (MCLS), up 5% to 44.1p, Domino's Pizza Group (DOM), up 4.9% to 334p, Unilever (ULVR), up 4.6% to 4,303p, Glanbia (GLB), up 4.4% to €9.08 and PZ Cussons (PZC), up 4.1% to 184p.
Yesterday's fallers included Mitchells & Butlers (MAB), down5.4% to 177.2p, Marston's (MARS), down 3.8% to 38.7p, Sainsbury's (SBRY), down 2.9% to 195.5p and Coca-Cola HBC (CCH), down 2.5% to 1,955.5p.