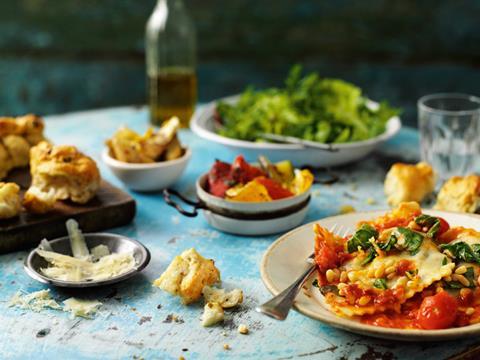 Food group Bakkavor has increased UK like-for-like sales in the face of challenging retail conditions as it passed on lower input costs to its grocery customers.
Revenues in the third quarter to 26 September totalled £379.8m in the UK – up 1% on a like-for-like basis – as it salad and bread products put in particularly good performances. Adjusted EBTDA also rose 12% to £34.3m.
Growth in the quarter came despite its customers, such as Tesco, Asda and Morrisons, continuing to struggle to compete against the rise of Aldi and Lidl.
Bakkavor said the UK sales hike was volume driven as it passed on the benefit of raw material deflation on to its customers.
The own-label ready meals manufacturer added that it continued to see pressure on labour costs across its operations and the introduction of the new national living wage from April next year would "represent a further challenge".
Group revenues climbed 3% in the quarter to £419.9m – up 2% like for like – thanks to a "strong" performance from the international business, which registered a 48% jump in sales to £40.1m thanks to the acquisition of US manufacturer B. Robert's Foods in January. The deal did not account for all the international growth as like-for-like sales were 23% up on a year ago as the fresh prepared foods market continued to expand in the US and volume demand increased in Asia.
Group adjusted EBITDA increased 16% in the period to £35.9m and pre-tax profits
CEO Agust Gudmundsson said: "The group has reported an excellent set of results with revenue growth, margin improvement and strong cash conversion. We expect trading conditions to remain challenging, particularly due to intense retailer competition. However, we approach the Christmas period with good momentum and we remain confident in our strategy for the future."