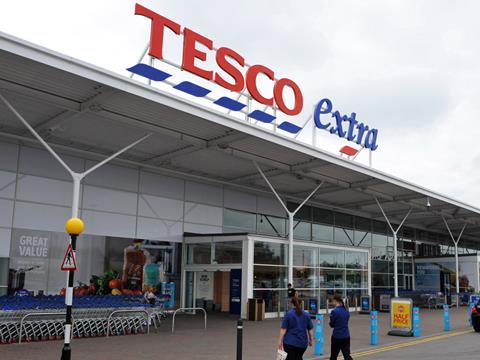 Top story
Tesco (TSCO) has posted a double-digit rise in group sales and operating profits as the integration of Booker and a strong second quarter boosted performance.
Total group sales for the 26 weeks to 25 August 2018 were up by 12.5% to £28.2bn at constant exchange rates with group-wide like-for-like growth of 2.2%.
Booker was consolidated into the group from 5 March and contributed 11.8% to group sales growth in the period.
The standout performer for Tesco was its UK and Republic of Ireland business, which saw like-for-like sales growth improve from 3.5% in the first quarter to 4.2% in the second quarter.
In Tesco UK, like-for-like sales grew by 2.3% in the half and the supermarkets gained 189,500 customers in the course of the last year.
All store formats and channels achieved like-for-like sales growth, with its large store business growing at 1.8% and online grocery sales up 3.5% supported by increasing customer numbers. Booker posted growth in like-for-like sales of 14.7% (13.3% growth excluding tobacco).
The strong sales performance drove group operating profit before exceptional items and amortisation of acquired intangibles up 23.9% to £933m at constant exchange rates and up 24.4% at actual rates.
UK & ROI operating profit before exceptional items and amortisation of acquired intangibles was £685m, up 47.6% including a £97m contribution from Booker.
Central Europe profit of £59m was down 3.3%, while its profits in Asia sank 29.1% to £100m due to combined impact of sales deleverage, price investment and renegotiation of promotional investment.
Group operating margin rose by 29 basis points to 2.94% - and was up to 3.02% excluding its discontinued Tesco Direct business.
However, headline operating profits were down 6.5% to £819m due to £114m of exceptional items, compared to an exceptional gain of £126m in the corresponding period last year related to the 2017 sale of Lazada.
Tesco incurred exceptional costs of £57m on the closure of Tesco Direct, £22m in restructuring and redundancies and £40m on the amortisation of acquired intangible assets.
CEO Dave Lewis commented: "We have made a good start to the year. At the same time, we have made further strategic progress. We completed our merger with Booker in March and are delighted with performance so far. We announced a strategic alliance with Carrefour in July which goes live this month. And we are now more than half-way through the biggest own brand re-launch in our nearly 100-year history, including a significant investment in over 300 new 'Exclusively at Tesco' products at market-leading prices.
"We are firmly on track to deliver our medium-term ambitions and are continuing to improve the quality and value of our offer for customers in all of our markets. In doing so, we are well-positioned to deliver strong, sustainable returns for shareholders."
Tesco said it is on course to reduce costs by £1.5bn, to generate £9bn of retail cash from operations and to improve group operating margins to between 3.5% and 4.0% by 2019/20.
Capital expenditure for the year is now expected to be no more than £1.2bn. Going forward, we expect annual capital expenditure to remain between £1.1bn and £1.4bn.
It also said synergies associated with our merger with Booker will generate a benefit of at least £60m this year, growing to a cumulative £140m in 2019/20 and £200m by 2020/21.
Tesco shares have dropped 4.6% in early trading to 224.4p despite the strong second quarter sales growth as operating profit growth was below market expectations.
Morning update
After five years of deflation, for the second consecutive month shop prices increased on the previous year, according to the BRC-Nielsen Shop Price Index for September
The index showed shop price inflation inched up to 0.2% from 0.1% in August driven by rising food prices and less aggressive discounting in non-food compared to a year ago.
Non-food deflation eased slightly in September to 0.9% from 1.0% in August, while food inflation was steady at 1.9%.
Fresh food inflation accelerated to 1.6% in September from 1.5% in August, while ambient Food inflation slowed to 2.4% in September from 2.5% in August.
September was the second month in which shop prices recorded an increase, following a span of over five years of deflation.
BRC chief exec Helen Dickinson commented: "Overall shop prices were inflationary for the second month in a row in August, the first time in five years that prices have risen in two consecutive months.
"Global commodity conditions, in particular oil prices, would indicate that there are likely to be further inflationary pressures in the short to medium term which could lead to further price rises.
"This would be worrying enough for hard-pressed British consumers if we weren't staring down the barrel of a "no-deal" Brexit. Food prices alone have now been inflationary for more than a year and the BRC estimates that consumers could face up to a 29% increase in prices of products such as beef in the event of a "no-deal."
"Time is running out for the Government to deliver a Brexit deal with a workable backstop arrangement and a clear transition period. This is not good news for UK shoppers who out of all the stakeholders in the Brexit process ultimately have the most to lose."
Mike Watkins, head of retailer and business insight at Nielsen, added: "Despite the return of wage growth across the economy, there continues to be pressure on the consumer wallet in particular from higher energy and travel costs.
"The good news for shoppers is that Shop Price inflation continues to lag the Consumer Price Index and with the start of the Golden Quarter, and uncertainty around the underlying demand on the high street, retailers have been absorbing supply chain increases. Looking ahead we expect shoppers to maintain their grocery spend by making savings elsewhere in their overall household expenditure."
On the markets this morning, despite the Tesco share price drop the FTSE 100 has opened up 0.2% at 7,492.8pts.
Early risers include Produce Investments (PIL), up 1.6% to 190p, Morrisons (MRW), up 1.3% to 260.9p, Greene King (GNK), up 1.3% to 491.4p and Marston's (MARS), up 1.2% to 100.9p.
Fallers so far - as well as Tesco - include Premier Foods (PFD), down 1.2% to 41.7p, Majestic Wine (WINE), down 1.1% to 403.7p and McBride (MCB), down 1% to 139p.
Yesterday in the City
The FTSE 100 ended the day down 0.3% to 7,474.5pts as worries over the impact of Brexit, international trade and wider economic conditions in Europe persist.
The FTSE 100 tobacco stocks managed to shrug off the negative sentiment, with British American Tobacco (BATS) and Imperial Brands (IMB) both ending the day up 1.5% to 3.557p and 2,680p respectively.
Other risers including Majestic Wine (WINE), up 3.4% to 408p, Stock Sprits Group (STCK), up 2.2% to 200p and Marston's (MARS), up 1.3% to 99.8p.
However, there were more fallers than risers yesterday, notably including FeverTree (FEVR), which fell 2.3% to 3,559p, Greencore (GNC), down 2% to 185p and Associated British Foods (ABF), down 1.8% to 2,250p.
Also falling were McColl's (MCLS), down 3.8% to 140p, Just Eat (JE), down 2.5% to 652p, B&M European Value Retail (BME), down 1.6% to 387p, Hotel Chocolat (HOTC), down 1.6% to 317.5p and WH Smith (SMWH), down 1.1% to 233.4p.