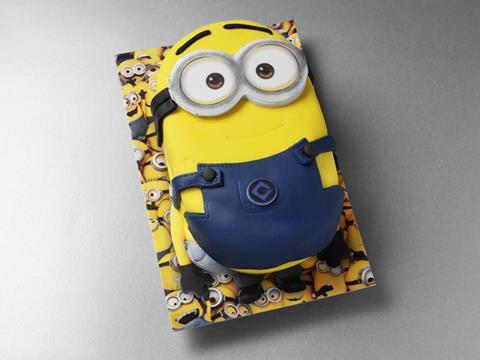 Top story
Cake supplier Finsbury Food Group (FIF) grew like for like adjusted profit before tax by 5.6% in the year to 1 July on flat revenues as investments in production efficiency helped boost the bottom line.
Adjusted profit before tax rose 5.6% to £16.6m on a like for like basis. Adjusted operating profit rose 4.2% to £17.4m on a like for like basis, with adjusted operating profit margin rising to 5.5% from 5.3%.
The group's sales were up 0.3% on a like-for-like basis to £314.3m, hampered by "a deflationary UK food market, which is changing in terms of channel balance as consumers shop in less traditional ways".
Finsbury said specific cost issues, that relate to the current weakness of Sterling and increased costs of the new national living wage have also had to be overcome through efficiency gains and price adjustment.
Its European business - a 50% subsidiary, Lightbody Stretz, based in France – grew by 15% to £38.1m, which "demonstrated the benefit of having a diversified portfolio".
Finsbury said this outcome, which was in line with market expectations, "has not been easy to achieve and has only been possible because of our board's long-term focus on driving efficiency and managing costs".
Finsbury reported record capital investment of £12.5m to drive efficiency and innovation.
Investment included the installation of a new automated whole cake line in an upgraded bakery at its Cardiff site and redesigning business processes to drive scale and efficiency across the group.
CEO John Duffy commented: ""The FY2017 results show strong resilience to the current challenges facing the industry and this strong performance, which has seen sales increase and profit margins improve, is testament to our long term focus on driving efficiency and scale across the group.
"Investment to date has paid off and the initiatives implemented during the year will continue to ensure that we maintain our robust position as a low cost and leading speciality baker in the UK over the next 12 months and beyond.
"Our European growth has also been particularly pleasing. The positive impact that these sales have had on the overall group performance demonstrates the advantages of having a geographically diverse portfolio.
"Our management team has proven its ability to remain competitive and nurture long term relationships with brands and customers. Although the challenging market conditions seem set to continue, we are confident that our focused and forward thinking strategy will drive us through."
Finsbury shares are down 1% to 100.25p so far this morning.
Morning update
Dairy Crest (DCG) has issued a pre-close trading update for the six months ending 30 September 2017, ahead of its interim results on 9 November.
The group said that in the first half of the financial year it expects that combined volumes of its four key brands - Cathedral City, Clover, Country Life and Frylight - will be ahead of last year. Combined value growth of these brands is expected to be higher than volume growth.
Cathedral City in particular is expected to deliver double-digit volume growth in the first half, while Cathedral City, Clover and Frylight continue to show strong volume growth.
However, as a result of higher cream prices, which determine input costs for the butter business, it has reduced promotional activity on Country Life which has impacted sales volumes though partly mitigated the adverse impact on margins.
It expects profit for the half year to be ahead of the same period last year, though net debt at the half year will be higher than at the year-end in March 2017 as the first half is characterised by increased stock levels due to the seasonality of milk supply and the payment of the final dividend.
Chief exec Mark Allen commented: "Cathedral City has had a strong first half of the year, delivering good volume and value growth and strengthening its position as the nation's favourite cheese. This performance has more than offset the impact of further input cost inflation in the butter business.
"Overall, first half profits are expected to be ahead of last year. Our profit expectations for the full year are unchanged despite input costs remaining high. The strength of our brands and focus on quality, innovation and efficiencies mean that we remain well positioned to deal with market conditions.
"We continue to focus on cash generation and on reducing net debt in the full year. The agreement reached with the Trustee of the Pension Fund is an important development and significantly reduces future funding liabilities."
Elsewhere, UK-listed palm oil producer MP Evans (MPE) has reported that operating profits more than tripled to US$18m in the six months ended 30 June 2017.
The performance was driven by a 26% increase in crop as young plantings continue to mature and a 56% increase in production of crude palm oil.
Operating profit from from US$5m to $18m, partly due to the average price per ton rising by 10% year-on-year to US$735.
Headline profits rose from US$18m to US$81.4m thanks largely to a one-off profit of US$68m following sale of its Agro Muko joint venture.
Chairman Peter Hadsley-Chaplin said: "Operating profit tripled in the first half of 2017 as crops surged and palm-oil prices strengthened. In addition, a substantial one-off gain arose following the sale of the Agro Muko joint venture.
"I am delighted that the hectarage sold will be more than replaced through the recently announced agreement to acquire a new 10,000-hectare plantation in East Kalimantan. This will help sustain the significant expected increase in crops, and hence cash flows, that underpin the board's commitment to pay enhanced dividends."
On the markets this morning, Dairy Crest has edged down 0.25% to 608p so far today while MP Evans is up 1.7% to 750.4p.
Overall the FTSE 100 is up 0.4% to 7,241.7pts to start the week.
Early risers include Hilton Food Group (HFG), up 3.8% to 769.5p, Total Produce (TOT), up 1.1% to 196.2p, Just Eat (JE), up 1% to 692.5 and Tesco (TSCO) and Booker (BOK) bother up 0.9% to 183.2p and 200.4p respectively.
Fallers so far include McColl's Retail Group (MCLS), down 2.7% to 277p, Greencore (GNC), down 2% to 182.8p, Hotel Chocolat (HOTC), down 1.3% to 261.5p and Imperial Brands (IMB), down 1.1% to 3,289.5p.
This week in the City
The City is yet to kick fully back into gear following the summer break, but there is another trickle of market updates in store this week.
Of most interest will be Ocado's third quarter trading statement, with many eyes on the online grocer on how it responds to the growing threat of Amazon domestically and what new international opportunities there are for growth.
Global stevia producer PureCirlce (PURE) will also issue its full year results tomorrow morning, while sports nutrition provider Science in Sport (SIS) is down to issue its half year figures on Wednesday.
Also, Diageo (DGE) will hold its AGM on Wednesday and pub group Mitchells & Butlers (MAB) issues a trading update on Thursday.
Globally it is a quiet week ahead of third quarter earnings season next month, but General Mills is scheduled to issue its first quarter trading update on Wednesday.
In economic news, the Office of National Statistics' retail sales for August will be released on Wednesday morning, while this week brings the CBI's industrial trends and distributive trends surveys.