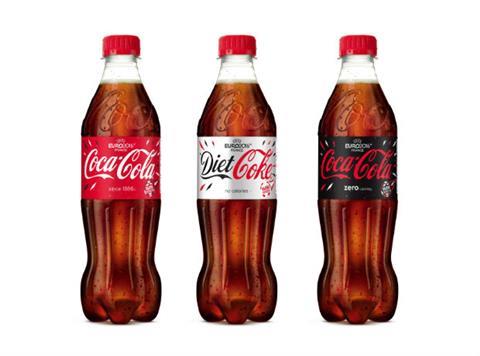 A lack of consumer thirst for Coke, poor weather, challenging consumer markets and the slump in sterling after Brexit combined to send sales backwards at Coca-Cola European Partners (CCEP) – the newly formed European bottling giant.
It is the first set of results since Coca-Cola Enterprises, Coca-Cola Iberian Partners and Coca-Cola Erfrischungsgetränke agreed to a €28bn merger in August last year.
Revenues in the six months to 1 July fell by 3% to €5.2bn (£4.5bn) as volumes slipped 1.5%. A 6.5% jump in Coca-Cola Zero Sugar volumes across the group failed to offset the 3.5% slump in traditional Coke, leading to a 1.5% total fall for sparkling brands.
Operating profits plunged 17.5% to €314m as a result.
Stripping out currency movements, sales jumped 10.5% to €3.5bn (£3bn) thanks to the inclusion of the Germany and Iberia operations.
Revenues in Great Britain slumped 10.5% in the period as the pound plunged 6% in value against the euro compared to the previous year.
Temporary supply chain disruptions caused by new software also affected the performance in the country, CCEP said
"Since the creation of Coca-Cola European Partners nearly four months ago, our strong belief in the future of our new company has been reinforced," CEO John Brock said.
"We are making significant progress to integrate the new business, share best practices and become even more effective and efficient.
"Our first-half results reflect the continued impact of a soft consumer environment and persistent economic challenges. These conditions support our focus on executing against our outstanding marketing programmes, improving our operational effectiveness and integrating CCEP to capture synergies as we work to reach our full-year 2016 performance objectives."
Energy drinks proved to be a more successful category for CCEP in the half, offsetting offset low single-digit declines in sparkling flavours to grow volumes in the segment 5%.
Still brands grew 1%, with water brands up 4% and all other stills down 1.5%.
On a territory basis, Iberia revenues were up 1.5% as sales per unit case increased ahead of volume. Revenues in Germany declined 0.5%, in part due to the impact of a transition to recyclable PET from returnable PET. France fell back 4.5% as poor weather pushed volumes down and tourist numbers fell in the wake of a number of terror attacks.
Belgium also suffered the aftershocks of the terrorist incidents sending revenues in the northern European territories (Belgium, the Netherlands, Norway and Sweden) down 0.5% despite growth in Norway and Sweden.
Chief operating officer Damian Gammell said CCEP remained on track to make pre-tax savings of €315m to €340m through synergies by mid-2019.