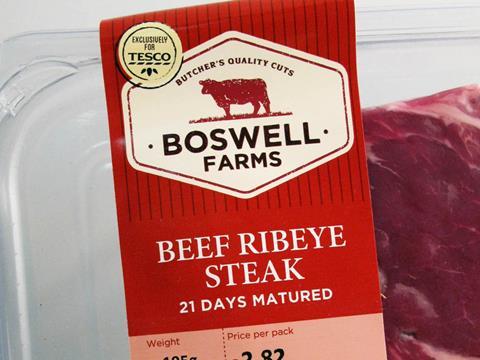 Tesco meat packer Hilton Food Group has posted a 38.6% jump in first half sales to £1.26bn on a spike in demand during the coronavirus crisis.
Performance in the period saw volume growth of 22.6% attributable to its new Australian facility, increased UK participation with Tesco and increased home consumption driven by Covid.
In Europe turnover increased by 14.9% on a constant currency basis reflecting the higher volumes and also increases in raw material prices.
Taking full control of its previous JV with Woolworths in Australia and the opening of a new facility in Brisbane meant Australian revenues rose to £338.1m from £7.6m.
Operating profit for the first 28 weeks of 2020 was up 17.9% to £31.5m despite coronavirus related costs, driven by volume growth.
Operating margin was lower at 13.2p per kg (2019: 13.8p per kg) and the margin was 2.5% (down from 2.9%) mainly due to higher Australia unit revenues, more resourcing and also Covid-related costs.
Executive chairman Robert Watson commented: "I am extremely proud of the commitment and resilience shown by the entire Hilton team to step up and adapt quickly to the challenges caused by Covid-19 in order to safeguard our people, keep our facilities open and support our customers. This response underpinned a strong performance with volume and profit growth demonstrating the robustness and sustainability of our business.
"Hilton continues to invest in new facilities in Belgium and New Zealand which, together with the further development of our fish and vegetarian categories will ensure future growth. As with all businesses there remain uncertainties concerning the full impact of Covid-19 including potential recessionary risks but our wide geographical spread and the fact we serve the food retail sector make us believe we are well placed to meet any future challenges."
It said its financial position remains strong and it continue to explore opportunities to invest and grow the business both domestically and in overseas markets with both new and existing customers.
Full year results are expected to be in line with the board's expectations.