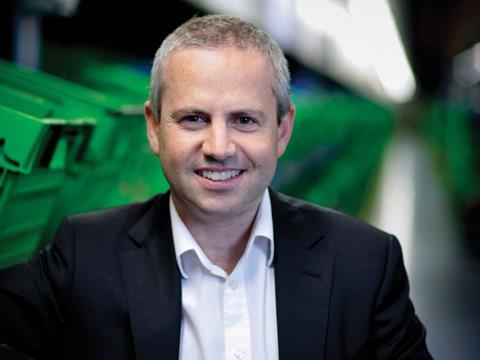 Champagne corks were absolutely not popping over at Ocado (OCDO) HQ yesterday despite the online retailer posting its maiden full-year profit after 15 years of trading, according to CEO Tim Steiner. With the capex tap set to be turned up in 2015, thanks to a major investment in a fourth, massive distribution hub, and a potential international partnership finally in the offing, Ocado has its eyes on a bigger prize than the announcement of its first-ever profit.
Relieving as it must have been to have finally thrown off the profitless tag attached to the group in so many media stories, Steiner insists Ocado's focus is, and always has been, the generation of long-term value for shareholders.
"The profit is nice but it wasn't our objective and if it was we would have done it beforehand," he says. "We're continually investing in what we see as opportunities for the future to drive that long-term value."
All of the headlines have focused on that £7.2m pre-tax profit figure, compared with a loss of £12.5m in 2013, as Ocado grew revenue by almost 20% to £948.9m, with a rise in active customers (from 385,000 to 453,000), average orders per week (from 143,000 to 167,000) and the number of SKUs (from 34,000 to more than 43,000). And the ascent into the black came despite more large-scale investment, deflationary food prices and the industry's ongoing problem with margin.
However, Steiner was keen to stress that the most important parts of the preliminary results lay elsewhere; primarily in the growth potential of two new customer fulfilment centres and the detailed discussions with "several parties" for a much-touted international partnership using Ocado's 'smart platform' IP.
Although, he refused to be drawn on specific details relating to the who and where, the noises coming from Ocado were positive that an agreement would be signed this year. Steiner did say the discussions spanned North America and Europe and there had been approaches from Latin America and Asia, as well.
The company's third customer fulfilment centre in Hampshire is also set to open by the end of the year adding another 65,000 orders per week (OPW) to its capacity. It also, last week, revealed plans for its fourth – and biggest – centre in Erith, South East London, which is expected to add more than 200,000 OPW.
Steiner says the Andover centre represents about 30% of group today, giving the company one to two years of growth capability, and Erith is as big as the current business. It represents a significant growth opportunity and both are expected to be more capital efficient than the other CFCs, as well as more operationally efficient. However, this kind of scaling does not come cheap and Ocado flagged up that capital expenditure in 2015 would be approximately £150m (compared with £86.4m in 2014).
So how did the analysts react to this two key areas for Ocado?
Clive Black of Shore Capital, a long-term seller of the stock, says:
"We watch with interest to see Ocado continuing to invest, so burning cash again, on fixed assets; net debt rose to £99.4m at November 2014, approaching 1.5x EBITDA with cash outflows set to continue after another £150m of FY2015 capital expenditure. The business is expected by us to continue to grow but challenges in the UK grocery market remain on the horizon, particularly of a gross margin nature.
"In due course much feted international commercial relations are expected to come through with management targeting a first international platform agreement by the end of 2015, which should assist the momentum of the narrative, no doubt accompanied by additional 'good' downgrades to earnings, but the question for us is whether or not such developments have substance and can they move the profit, earnings, cash flow or returns dial of the group?"
Andrew Wade of Numis maintained a more positive stance but noted the additional £5m of costs associated with negotiating platform service agreements and developing the platform operation, with IT staff set to reach 700-strong in 2015.
"Notwithstanding the short-term earnings impact, we are very encouraged by the progress on the modular solution and the confidence that a deal will be signed this year; we continue to believe that Ocado is uniquely positioned to leverage its market-leading IP to support Ocado Retail and develop partnerships with global grocery retailers looking for the best online grocery fulfilment solution."
Goldman Sachs' Rob Joyce adds revenue growth and solid operating margins in the current competitive UK grocery market highlighted the structural growth and operational leverage within Ocado's model.
"Announcements of CFC3 and CFC4 and the target of signing another third-party online grocery solution deal confirm the strong growth and unique investment opportunity Ocado provides."
Comments from James Anstead at Barclays Insights highlight just how much Ocado splits opinions in the City.
"Ocado's full-year results can be taken either positively or negatively. The good news is that full-year EBITDA was slightly stronger than we had forecast, at £71.6m (vs £70.8m).
"The more intriguing news is that the chief executive is saying that Ocado is targeting signing its first international partnership agreement in 2015. There is of course no guarantee this will happen, but this is the first time that the business has set itself any sort of 'timeline.'
"From a more negative perspective, there may be focus on capex guidance and EBITDA expectations."