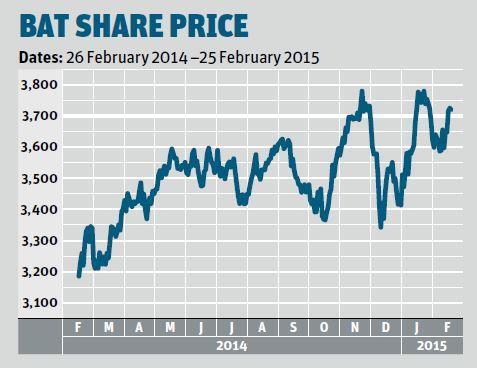 Tobacco companies have been having a tough time of late, as they battle fierce currency headwinds, regulatory crackdowns and a global slump in cigarette volumes.

As such, the news that British American Tobacco's annual revenues fell "only" 8.4% to $14bn in 2014 was greeted with some relief by investors. The shares rose by 1.2% on Thursday to 3.775p, touching year-long highs despite the ­revenue drop and 1.4% volume decline.

Currency was once more the story of the day, with negative foreign exchange impacts dragging back revenues by almost 11% - BAT's sales rose 2.8% on a constant currency basis. The firm also warned of ongoing adverse currency impacts in 2015, warning of "a significant impact on both a transactional and translational level". Jefferies analyst Martin Deboo said: "FX headwinds are the story of the day for us, but we urge a sense of proportion. The underlying, ex-fx, picture is that volumes and share are improving, pricing is firming and some of the local market spats that hit sentiment at Q3 seem to be receding."

Morrisons' investors seemed to agree with the media and analyst sentiment that David Potts ­represents a solid choice to take over the CEO role from Dalton Philips. The supermarket was trading 6.3% up week on week on Thursday morning at 197p, having risen 1.7% since Wednesday morning's announcement.

Elsewhere, the City was not overly enamoured with Associated British Foods' assurances it is trading in line with expectations. Updating the market on Monday, ABF said continued weakness in its sugar business would be offset by strong growth at Primark, but the shares slid 1.2% lower through the week despite an initial rally.

One of the sector's star performers of the week was AIM-listed butchery chain Crawshaw, which climbed by almost 20% on Tuesday after it reported a 5% rise in like-for-likes. Irish food group Glanbia was also in the black, rising 5.3% to €15.48 (£11.26) after posting 6.9% full-year ­revenue growth and issuing a bullish forecast.