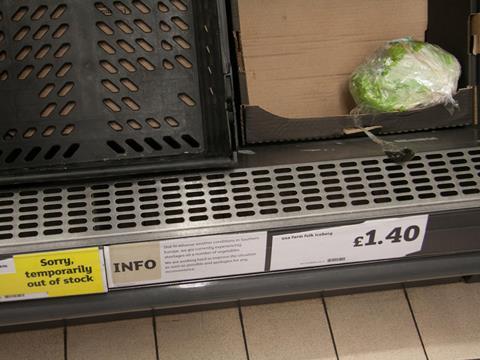 Salad suppliers are scrambling to secure alternative supplies to avoid a repeat of last year's veg crisis, as frosts in Spain are currently causing widespread shortages.

A January cold snap has hit veg supplies coming out of southern Spain, further worsening growing conditions in a Spanish season already hit by one of the worst droughts on record.

Lack of water had left veg crops vulnerable to frost, said grower body ASAJA Alicante, reporting its members had lost up to 1,000ha of growing areas - mainly lettuce, artichoke and broccoli - with the region harvesting 25% less than in 2016.

The shortage had seen wholesale prices of iceberg lettuce from Alicante, Murcia and Almeria rise 50% in a four-week period between December 2017 and January 2018, according to Mintec.

Analyst Rutika Ghodekar said the poor growing conditions had "resulted in a shortage of lettuce in most EU countries, making the situation equal or even worse than the year before".

Jonathan Olins, MD of Poupart Imports, said his business was already feeling the effect of shortages of crops such as lettuce, with wholesale prices up as much as 20% on produce from affected regions. "But from our side, there is resistance from buyers to paying the higher prices so we have had to reduce the volumes we're bringing in."

Fortunately, unlike last year, frost and snow have not spread across the Mediterranean. With cold conditions contained in Spain, salad brand Florette said it was sourcing from other regions.

"To mitigate the risk in southern Spain we have moved some supply to other areas of our grower network including north Africa, southern France and northern Spain," said a spokesman.

However, wholesaler Reynolds warned the drought was ongoing. "Market prices are high and overall availability is reduced. It is quite likely that as we approach the end of the Spanish leaf season that, if rainfall levels do not improve, availability will tighten further," said marketing director Andy Weir.