A dazzling store with heart
On a visit to London for a hearing of the Ownership Effect Commission, I took time out to visit a flagship retailer for the independent sector: Andrew Thornton at his Budgens store in Belsize Park.

The visit was fascinating and informative. This really is a destination store right at the heart of the community. Gardens have been planted in front of the store as a tribute to a local woman detained in Iran. At the entrance is a flower stall franchised to a local lady with proper florist displays, not "forecourt flowers".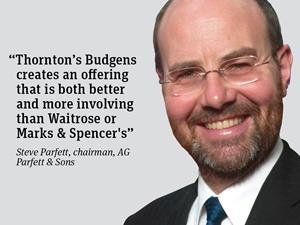 Just inside the entrance is an upmarket and clearly popular juice bar. Immediately inside is a superb range of greengrocery enticingly and artistically displayed. The first aisle is an extensive and inviting selection of chilled pre-packs.

Meanwhile at the bottom is a very busy hot food-to-go counter with chicken and ribs. Next to this is a further franchise for made-to-order sushi, followed by a sandwich counter where the offerings would not have been out of place in Harrods.

The fresh theme continued with a franchised butchery counter and a proper fishmonger with an excellent range and display. Nearby are local artisan bakery products, cooked meats from around the world and the best cheese selection, over three large display counters, that I have seen anywhere. The wine selection is extensive and eclectic (Tokay, Georgian and Kosher wines) and craft beer is well represented.

Packaged grocery follows but must only represent around 25% of floorspace. While the range is good, this area is clearly de-emphasised in favour of the specialist offers earlier in the layout.

As you get to the checkout area there is a large and busy post office counter. Uniquely in my experience the checkouts are all self-service, with staff on hand to help where necessary. The whole store buzzes with activity, not least because it is also a centre for community groups, actively involved during my visit.

Andrew has achieved all this with the active engagement of all his people through his Heart in Business scheme, encouraging people to take on responsibility and stretch their abilities. The engagement is evident in staff throughout the store and is clearly at the core of all that happens. London can feel like a different world and Belsize Park is a thriving area with a good independent book shop and an excellent organic deli very close by, and the symbiosis clearly works.

I believe this store can and does create an offering that is both better and more involving than Waitrose or M&S. The combination of Andrew's passion for his business and his workforce is not only heartwarming but also clearly very commercially successful.

Steve Parfett is chairman of AG Parfett & Sons