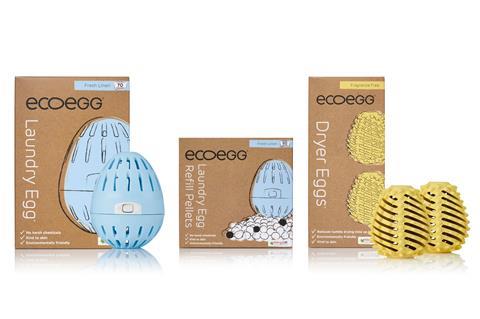 Waitrose has added a range of refillable pellet-based laundry 'eggs' it claims reduce the environmental impact of doing laundry.
The Ecoegg Laundry Egg can help shoppers "avoid using single-use plastic detergent and softener bottles", said Waitrose, as well as slashing water pollution. It rolled out this week into 185 stores (rsp: £9.99).
Each Egg holds 70 washes-worth of 'mineral pellets' when purchased, and can simply be placed on top of laundry in the washing machine. It comes in three variants: fresh linen, spring blossom and fragrance-free.
They contain two types of 'mineral pellets' – a white and a dark one – with the white pellet drawing dirt from clothing fibres. The dark pellet, meanwhile, ionises the water, making it more alkaline, which Ecoegg said helped "to soften clothing".
Refills cost £4.99 for a pack of pellets to cover 50 washes.
It was "the perfect laundry solution for consumers looking for products that are kinder for the environment, kinder to skin and help to reduce plastic," said Ecoegg head of brand and marketing Lisa Whalley-Smith.
"Buying an Ecoegg is a small change shoppers can make towards being greener, with the added benefit of saving them money on the household shop. We're confident it will be a hit."
Waitrose has also listed Ecoegg's 'Dryer Eggs' range, which it claims can "reduce tumble drying time by up to 28%" by separating laundry to allow more air to circulate in the dryer.
'Nodules' on the dry eggs also act as a natural fabric softener, said EcoEgg, eliminating the need to buy softener (rsp: £12.99).