As far as UK retailers and suppliers are concerned, Veganuary 2018 was a big hit. But we've seen food trends come and go before. So is the apparent hunger for meat-free products here to stay? 
Vegans and vegetarians browsing supermarket aisles must be in seventh heaven right now. For decades, the diet meant chewing on strips of pink-hued cardboard masquerading as bacon, or veggie sausages crumbling into gruel at the slightest touch of a fork. That or schlepping out to remote, extortionately priced health food shops to spend £15 on a kilo of organic yeast to make macaroni 'cheese'.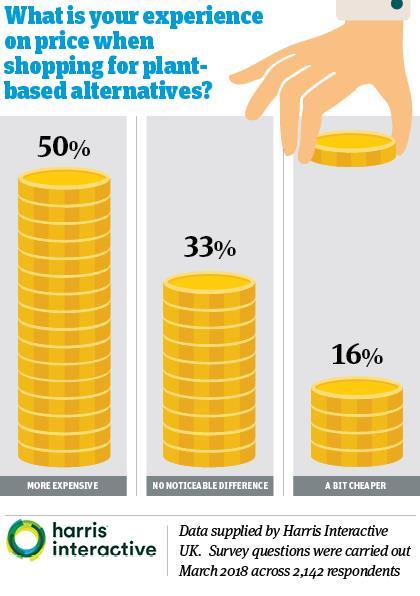 Now though, they're spoilt for choice. Supermarkets and brands are bending over backwards to cater for their every plant-based whim, shelves practically heaving under the weight of 'bleeding' burgers, mushroom bolognese and vegan pizzas. And the rationale appears to be a simple case of supply and demand.
In January a record-breaking 168,000 people in the UK laid down their bacon butties to take part in Veganuary, committing to 30 meat-free, dairy-free days. This figure is 50 times higher than the 3,300 that signed up in 2014. Latest figures from The Vegan Society show a 260% increase in those committing to the diet longer-term too, with 542,000 now ditching both meat and dairy, up from 150,000 a decade ago. And though there are no recent figures to track the growth in vegetarianism - with the 1.2 million figure harking back to a 2012 survey - exclusive research for The Grocer by Harris Interactive found 6% of adults now class themselves as vegetarians, removing meat and fish from their diet.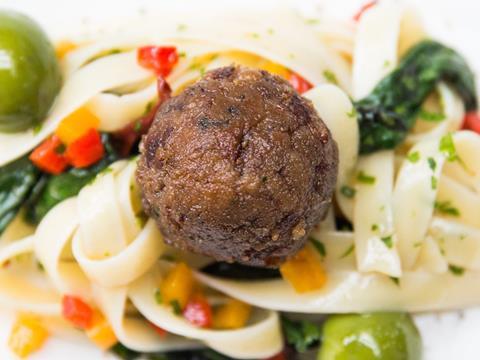 Meat firms hungry for a hunk of meat-free
Cargill: Employing 155,000 people across 70 countries, agricultural conglomerate Cargill is one of the largest privately held companies in the world, manufacturing ingredients across a huge range of categories, including meat and fish, as well as working with high street chains such as McDonald's to improve sustainability. In August 2017, the company made its first foray into cultured meat protein with an investment in Memphis Meats, a US startup that produced the first meatball made from cultured meat cells in 2016. "Our strategic alliance with Memphis Meats is an exciting way for Cargill to explore the potential in growing the cultured meats segment of the protein market," said protein group leader Brian Sikes.
Maple Leaf Foods: Not content with a simple capital investment, Canadian packaged meats company Maple Leaf Foods has acquired two vegan brands in the past two years. First up was Lightlife in February 2017, a manufacturer of vegan deli meats, sausages, chicken and breakfast foods, for $140m. Then in January it spent a further $120m acquiring Field Roast Grain Co, which manufactures vegan grain-based meat and cheese. "This acquisition advances Maple Leaf's vision to be the most sustainable protein company on earth, including a core strategy to diversify into plant-based protein," it said of the move.
PHW Group: In January, one of Europe's largest poultry producers formed what it called a 'strategic alliance' with Israeli cultured meat startup SuperMeat, which is developing chicken grown from cells. The startup raised $3m in seed funding in January thanks to a cash boost from the German company, as well as venture capitalists. "This approach not only facilitates the development of best-in-class animal welfare concepts in our core poultry business, but will also lead to the strengthening of our vegan product portfolio, confirming our leading role in the global consumer trend towards a cleaner, more protein-rich diet," says CEO Peter Wesjohann.
Tyson Foods: Investment into plant-based might seem "counterintuitive" for multibillion-dollar chicken, beef and pork producer Tyson Foods, but all its ventures have one thing in common, it says: protein. Finding a sustainable source is what has led it to invest in cultured meat startup Memphis Meats, and vegan brand Beyond Meat, alongside "stepping up our game on animal proteins by reinvesting millions of dollars in our core businesses and making bold moves that matter to consumers, like raising chicken without antibiotics".
Arguably even more transformative for the meat-free market in the past few years has been the rise of the 'flexitarian', shoppers steadily reducing their meat consumption rather than ditching it altogether. Twenty-eight per cent of Brits have adopted this diet already, according to Mintel, while among the 2,000 shoppers surveyed for The Grocer, 25% said they planned to reduce the amount of meat they ate further in the next 12 months, 5% by a significant amount.
"This is really transforming the industry from the inside out and consumers will see that reflected on grocery store shelves," says Emily Byrd of the Good Food Institute, a US non-profit set up two years ago to make plant-based eating "as delicious, as accessible and price competitive" as animal-based products. "We're getting to this place where people are more interested in the creation of these new products and it's become more critical that they do."

Globally, Allied Market Research predicts that the meat alternative market will reach $5.2bn by 2020, an 8.4% growth from 2015, with Europe accounting for 39% of that spend. That's significantly more than the 26.2% of grocery revenues the region accounts for across all food and drink. Meat-free is still dwarfed substantially by the $741bn in global sales of meat and fish, but the market is still surely significant enough to be causing sweaty palms at many UK meat manufacturers.

"The plant-based market has exploded," says Simeon Van der Molen, founder of plant-based brand Moving Mountains. "The appetite seems to be growing and growing and we think it's here to stay. As more and more people are educated on the problems of animal cruelty and mass farming industrialisation, people will be looking for alternatives. It's not just food, people have shared attitudes to the environment now, and being sustainable - and I think that's something that will continue to grow."

But is that a foregone conclusion? After all, there have been no shortage of seemingly short-lived foodie fads before, from spiralising to smoothie bowls to sauerkraut. How do we know our sudden preoccupation with plant-based eating will prove to be any different?

For one, many of the plant-based innovations hitting headlines are only very recent additions to the supermarket shelf. In January alone, Tesco unveiled its Wicked Kitchen range, a collection of 11 plant-based ready meals and nine on-the-go options. Then Sainsbury's added the likes of BBQ-pulled jackfruit to a lineup of seven new plant-based products. Not to be outdone, Ocado added a further 90 products to its plant-based offer, while Waitrose announced its new 'Good Health' range would include three vegan SKUs. This month Iceland will add a 'bleeding' vegan burger to its freezers.
Three crucial metrics
For all the hype and headlines that surround these launches, it's too early to tell if a substantial amount will succeed in the long term. Some have already flopped, with M&S removing its £2.50 cauliflower steak, after shoppers labelled it wasteful and ridiculous, only two days after launch. And success for the remainder of this plant-based NPD will be far from straightforward.

Shoppers may cite ethics, environment and health as the inspiration behind their decision to cut out or cut down meat consumption (nearly half of those surveyed by Harris did), but for Byrd this NPD will live or die on three far more pragmatic metrics. "We might think it's all because we care about our health or the health of the planet but really it's about taste, price and convenience before anything else," she says.

Previous short-lived spikes in shopping behaviour prove the point. In the three weeks that followed the warning by the WHO in 2015 of a link between processed meat consumption and cancer, UK sales of sausages and bacon fell 16% [IRI]. But by 2017 that dip had turned into a 6% rise in the volumes of bacon rashers sold, according to Kantar Worldpanel, as the shock wore off and consumers returned to their previous eating habits, drawn by taste and convenience.

In a similar vein, the 2008 campaign spearheaded by Jamie Oliver and Hugh Fearnley-Whittingstall encouraging shoppers to switch to higher-welfare chickens led to an initial 35% increase in sales of free-range chicken. It didn't last. "Not long after came the economic downturn which curtailed interest in that end of the market," says Richard Griffiths, chief executive of the British Poultry Council, as price overwhelmed loftier concerns.

But Byrd is hopeful the plant-based market can address these three behaviour drivers to turn an initial spike into a longer-term shift. She cites the alternative milk sector as an example. "Plant-based milk launched in a sector with few opportunities for innovation, relatively little differentiation and broke it wide open by starting with new ingredients and flavours. It's available, it's price competitive, and consumers are interested in new flavours. It's not only because they're concerned about environmental impact. We think plant-based meat will get there."

Currently on taste "plant-based meats are still in their infancy," she admits. "But the market itself is on the cusp of a revolution. Right now, fewer than 10% of the world's plant protein sources have been explored. Most companies are still using the same technology and machinery to make these products as they were 20 years ago."

Startups such as Beyond Meat, Impossible Foods and Moving Mountains are at the vanguard of a new wave of companies looking to change that with products that look, cook, and taste like meat. "On first glance, our burger patty looks exactly like a raw meat burger, except the 'bleed' comes from beetroot juice and the succulent texture from coconut oil," says Van der Molen. "The B12 Burger is designed for people who are used to eating meat but ultimately want a more sustainable alternative."

The convenience of shopping for plant-based proteins is improving too as supermarkets substantially bulk up ranges. Crucially, the latest raft of new year NPD responded to a longer-term shift, says Tesco. "In the last year we've seen customers increasingly looking for plant-based foods, with demand for our frozen meat-free foods increasing by more than 70%, and our chilled vegetarian ready meals and meat substitutes soaring by more than 30%," according to a spokesman.

"The retail trade have woken up to it and the space allocation for the category is increasing continually," says Quorn CEO Kevin Brennan. "The scale of that increase is much greater in the last 18 months than on an annual basis in the last four to five years. And it continues. There's now a lot of space to go after."

The decision by major supermarkets to reflect demand and invest in own-label plant-based ranges will act as a "self-fulfilling prophecy" in many ways, believes Pippa Bailey, head of innovation at Ipsos Mori, as "the more frictionless it is the more likely people will be to make that change".

"Availability within these ranges is so much broader than it ever has been, which will catch people's eye and make it a more appealing swap," adds Emma Clifford, Mintel's associate director of food and drink.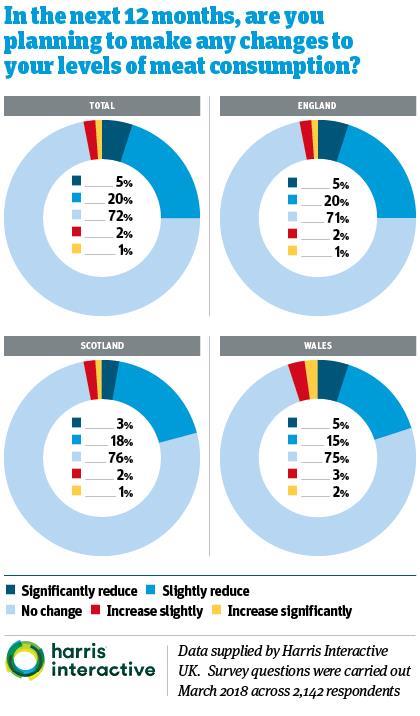 Price, on the other hand, could be the biggest hurdle for meat-free to overcome. Of shoppers that buy plant-based alternatives, 50% found them to be more expensive than meat, and only 16% cheaper. A third found no noticeable difference. The aim of price parity is a sticking point for plant-based, believes Byrd. "The meat industry is very well-established, heavily subsidised, heavily automated, the supply chain is robust and trying to create new supply chains for novel plant proteins to go into plant-based meats is all relatively new."

But coupled with their concerns about ethics, the environment and health, might customers be willing to pay marginally more, so long as the trend toward improving taste and availability continues? Van der Molen believes so. "The more people are aware of their footprint on the environment and how animals are used for mass farming, the more people will be prepared to pay more."

After all, free-range chickens may have been a stretch too far for most consumers once Jamie Oliver finished his 2008 push, but there was a long-term impact driven by ongoing animal welfare concerns, says Griffiths. When "the general economic downturn happened, people started trading out of free-range and organic but into standard-plus," he says. "That has actually endured. Whereas free-range and organic are no more than 5% of the market, that middle standard is still 12%-15%." In other words, consumers won't double their grocery bill in the name of ethics, but they may be willing to pay a few pounds extra for plant-based.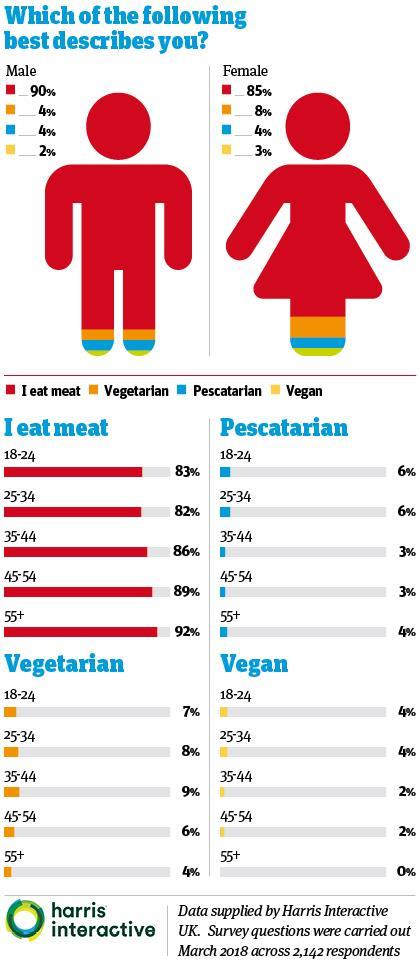 For Griffiths this parallel with the 2008 campaign goes further. Similar to the longevity of interest in mid-tier chicken, as opposed to free-range, he believes that though the more extreme, rigid diets adopted by full-time vegans or vegetarians "won't stick except with a very small percentage", the more flexible and gradual reduction of meat will".

The trend isn't going anywhere soon, adds Brennan. To start with, "it was already there, it has accelerated rather than just arrived," he says. "Secondly, this is everywhere in the world. Even in the US where the market was glacial in its growth it's now on fire. It's one of the fastest-growing categories in the US and growing across Europe, Australia and South America. To be a short-term blip in so many places seems unlikely."

You'd expect nothing less from the CEO of a £164m sales plant-based brand, of course. But the fact is an increasing number of meat manufacturers are sharing his views on the longer-term commerciality of the trend, with several investing directly in the development of viable plant-based alternatives.
'This is not a fad'
German sausage and pork supplier Rügenwalder Mühle is one of those, bringing to market its first vegetarian product as far back as 2014. Development of the Vegetarische Schinken Spicker took three years, and has been joined by 19 more plant-based protein alternatives, from mincemeat to bratwurst. "Demand for the product was huge," says a spokeswoman at the company. By 2015 the range accounted for 20% of total sales - by 2016 that was 26%. "We see meat substitute products as an important part of climate and environmental protection," adds the spokeswoman. "On a global perspective we cannot continue producing meat as before. Our goal is to increase the meatless range to 40% of total turnover by the end of 2020."
'The retail trade have woken up to it and the space allocation for the category is increasing continually'
Investments such as this, and the likes of US meat behemoth Tyson Foods, show "this is not a fad" adds Tony Watson, former butcher and now managing director at Meat the Alternative. "You've only got to look at the current consumer demand for alternative proteins and the decline in red and processed meats in the UK [to know this] is certainly not going away.

"I've come from the meat industry and watched how it performs and how everything takes shape and it's not sustainable," adds Watson. The likes of Tyson Foods "have obviously seen their existing business eroded because of what is going on with other proteins".

A March report by Beef & Lamb New Zealand admitted as much, predicting the industrial scale production of plant protein alternatives in five years, as mainstream availability flourished in grocery and QSR outlets, and negative perceptions of red meat persisted. The trend would push the red meat sector into more premium niche categories, it said.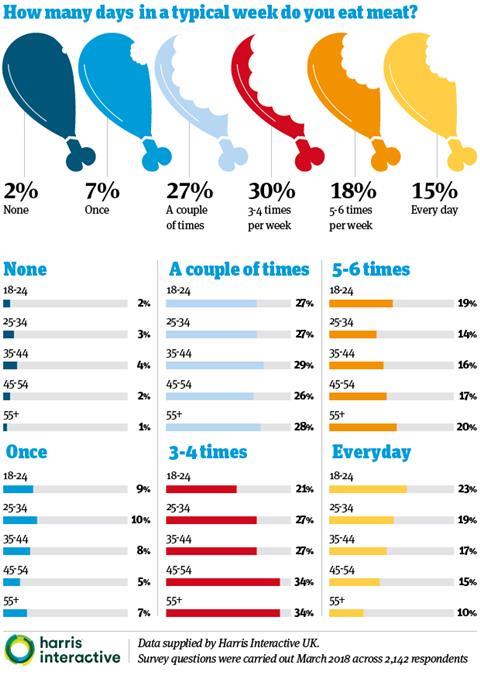 Plant-based hasn't taken a sizeable bite out of meat yet. As data from Harris shows, 88% of shoppers still eat meat, and two-thirds (63%) do so up to four times per week. But with 35% of 18 to 24-year-olds looking to cut that down in the next 12 months, it's clear a generational shift toward plant-based is underway, one that looks set to be sustained by a new wave of NPD emphasising taste and convenience, with backing from some of the world's titans of protein.
"The population is looking to cut down on meat, driven by the now widely established consensus around health, sustainability and major issues concerning livestock and the environment," sums up Brennan. "It's widely accepted now that there's a problem looming there. Nobody was talking about it four or five years ago. That has definitely changed."

And it's a change that looks set to endure far beyond the four weeks of Veganuary.
DOWNLOAD: Full results of our consumer survey on meat-free