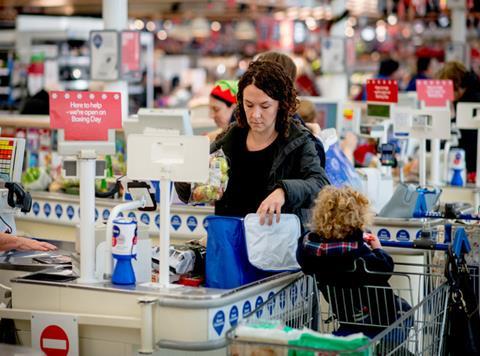 Supermarket inflation moved back to its second-highest level since mid-2018 in February as prices continue to move upwards.
The Grocer Price Index, collated by Edge by Ascential from approximately 60,000 individual SKUs across the big four supermarkets, moved up 0.6% year on year in February, having risen by 0.4% in January.
Last month marked the fifth consecutive period of rising prices and equalled the highest monthly level of inflation since June 2018, behind the 0.8% inflation recorded in August 2019. All the big four posted annual price increases during the month.
Sainsbury's once again had the lowest level of price rises, though it moved back into inflation of 0.2% in February compared with deflation of 0.6% in January. Sainsbury's has now had the lowest level of industry inflation in all but one of the eight months since June 2019.
Tesco recorded the largest price increase in February at 0.9%, with Morrisons at 0.7% and Asda at 0.5%.
Waitrose, not included in the overall GPI figures, recorded inflation of 0.3%, compared with 0.5% in January.
The coronavirus spike in demand for health products, such as hand sanitisers and painkillers, largely occurred after the end of the February period covered by the data. However, price increases in the health & beauty category were already among the highest at 1.7%. Other category risers included deli, up 3.6%, meat, fish and poultry, up 1.5%, and chilled, up 1.2%.
In total, 12 of the 14 GPI categories displayed inflation last month. Household (–0.3%) and dairy (–0.6%) were the only categories to see lower prices year on year.
The immediate future direction of grocery inflation is currently unclear, given competing forces driving pricing in the industry.
The global spread of the coronavirus and its potential growth in the UK has led to panic buying, particularly of health and medical products, toilet rolls and frozen categories. A surge in demand, coupled with potential supply chain disruption, would point to inflationary pressures on prices across a number of key categories.
Global food prices have also been growing at a double-digit rate for the past three months, according to BRC/Nielsen.
However, coronavirus fears have also led to a plunge in the global oil price in recent days, partly driven by lower demand from the airline industry. Oil prices are a key underlying commodity in food production and retail, with low oil prices typically having a deflationary impact.
Indeed, UK-wide inflation jumped to a six-month high of 1.8% in January after a surge in petrol prices, which the lower global oil price is likely to reverse, despite not yet being passed on at the pumps.