What's hot in healthy snacking and sports nutrition
Over the past five years, the protein bar category has more than doubled. At the end of 2018 the category was worth £57.9m. As of this summer, the category is now at a healthy £122.6m. There are several drivers to this growth, but the key one has been an increase in consumption. Customers are more savvy than ever, and more conscious about what they snack on, so they are turning to products that give them more. Protein-packed products that don't compromise on taste, such as the Grenade protein bar range, offer customers guilt-free indulgence. With over a quarter of adults agreeing protein is the most important attribute when choosing a snack, it's no wonder customers are continuing to opt for such ranges at the fixture.
With typically higher cash margin than popular confectionery singles, protein bars provide a lucrative opportunity for retailers to maximise the return on their congested fixture space. The sales of protein bars are competing for this confectionery space and if retailers are looking to be efficient in making the most from their snacking range, offering protein bars can generate more cash through the till with less restocking and reordering than leading confectionery singles.
Challenges faced by new entrants to the protein market
The increase in consumption of protein bars has been a result of shoppers understanding the benefits of protein and healthier snacking. However, there is still a way to go for retailers to fully capitalise on this demand. Finding protein bars in-store has long been a problem for shoppers, which results in many lost sales. Retailers have struggled to find a suitable home for their protein bar range and with different retailers choosing different locations, shoppers don't have a fixture they know they can head to in order to find their favourite healthier snack. Creating a home for protein bars amongst the typical snacking range, alongside confectionery, provides the perfect opportunity to create consistency for shoppers.
The introduction of HFSS legislation has also created disruption for retailers in siting their protein bar ranges. Grenade's range of HFSS-compliant bars such as popular Caramel Chaos and Jaffa Quake, ensures retailers have a solution to continue to offer healthier snacks at the front of the store in popular impulse locations.
What's new in protein snacking
Customers need snacks for different occasions and it's important retailers have a range that meets the needs of shoppers. Multipacks are growing ahead of the total protein bar market at 50% and provide retailers with the opportunity to upsell customers already picking up single bars. This cupboard fill solution offers customers the chance for better value while increasing the spend in-store for retailers. Snack size formats are also in similar growth at 51% and providing the perfect entry point for new shoppers entering the category. The lower price point and smaller snack provides the perfect product for customers opting to try a protein bar for the first time.
Finally, the category continues to innovate with Grenade at the forefront. Our Oreo flavour has been a ground-breaking success in its first six months of sales, quickly becoming the biggest selling in terms of value and fastest selling for cash rate of sale of any protein bar. It's also outsold many popular confectionery singles, sitting in fourth place overall. This shows the potential for protein bars to exceed the established must-stock confectionery favourites. On top of this, 80% of those purchasing the Oreo flavour have been incremental to the category, paving the way for more shoppers than ever enjoying protein bars in the future.
Who's taking advantage of the demand?
Grenade Oreo White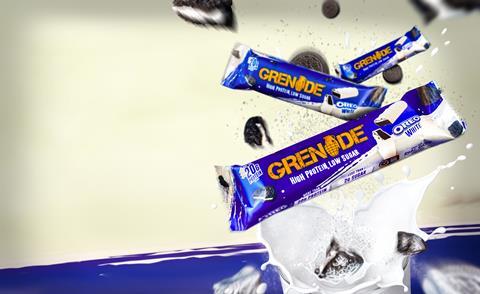 Following the success of its collaboration with Oreo, Grenade has gone a step further with an Oreo White bar.
Each bar boats 20g of protein and less than 2g of sugar.
The two Mondelez brands launched their first co-branded product in January 2023, less than two years after Grenade was snapped up by Cadbury owner Mondelez in March 2021. In the two years to 2022, Grenade contributed 54% growth to the protein bar category [IRI 52 w/e 7 August 2022].
Snickers Hi Protein Low Sugar
Rsp: £2.79/47g
Mars set out plans to launch new 'Snickers Hi Protein Low Sugar' in milk and white chocolate variants earlier this summer.
They're similar to the brand's previous high-protein launches, containing 20g of protein per serving. But they come in at just 2g of sugar, down from 14g in the original Snickers Protein bars. They're available in Asda from November and throughout wholesale and convenience channels from August.
Nakd Protein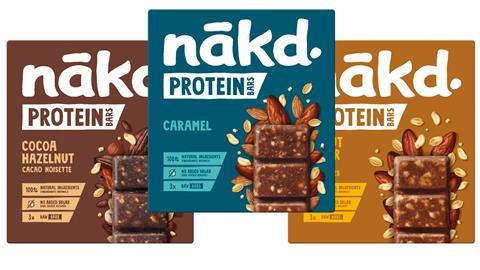 Rsp: £1.25-£3/45g-3x45g
Lotus Bakeries-owned snack bar brand Nakd launched a trio of protein bars, containing dates, peanuts and chicory fibre, in spring. Each 45g bar provides over 7g protein.
They would meet the demand for functional health products, said Nakd.
Cocoa Hazelnut, Peanut Butter and Caramel flavours rolled into retailers as single bars and in multipacks of three.