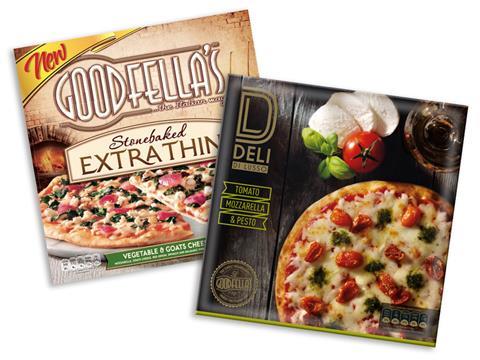 2 Sisters' dastardly plot to corrupt MPs with a packet of biscuits may have caused some embarrassing headlines this week, but the sale of its Goodfella's pizza brand to Nomad is a genuinely significant moment in the evolution of the UK's second-largest food business.
The incorruptible parliamentarians who so bravely resisted 2 Sisters' "inappropriate" efforts to "impugn" their good standing may find the problem of free Fox's biscuits soon goes away of its own accord as the group's Goodfella's sale looks to signify something of a retreat from branded goods.
While 2 Sisters does have other brands under its ownership – including Holland's Pies and Christmas pudding brand Matthew Walker – the two branded jewels in its crown have been Goodfella's and Fox's.
One is now gone and the other is on the block, with a merger between Fox's and Burton's expected in the coming months, either via an IPO or backed by private equity.
CEO Ranjit Boparan said this week the €225m (£199m) Goodfella's sale represented "our first major step to transform 2 Sisters".
He did not specify what form this transformation will take, but most observers see his conversion to the merits of selling valuable assets as recognition that 2 Sisters needs to focus more on its core protein business.
Of course, the very reason MPs baulked at 2 Sisters' biscuit offering is that a parliamentary select committee is currently investigating the company over the food hygiene scandal uncovered at its West Bromwich factory last October.
But any talk of a post-crisis fire sale looks wide of the mark.
A source close to the business is keen to stress a sale of Goodfella's had been in the works for a "long time" and had been explored back in 2013. "Discussions with Nomad pre-date the Guardian investigation by months and months," the source adds.
Rumours of a Fox's and Burton's deal also go back decades, and both Burton's itself and a group of institutional investors have tried to get a deal for the brand over the line in recent years and 2 Sisters' explored an IPO for Fox's early in 2017.
According to market sources, the key block on these deals has been Boparan's reluctance to sell up and cede control of assets that make money. "He's never sold anything while it still has value in it," one dealmaker comments.
So what has changed? One insider suggests Boparan has come round to the thinking that 2 Sisters needs to invest in and focus more on the core business.
"These brands are doing pretty well, but they're not categories Ranjit loves or particularly understands. He understands it makes strategic sense to release money to invest back into chickens."
The source close to the business confirms: "Ranjit has always been ultra-acquisitive by nature, but there is now a sense of focusing on the fundamentals and the protein business. 2 Sisters is fundamentally a protein and protein-plus group."
In this sense, the scandal at West Bromwich is not a trigger for the asset sales, but is a symptom of the need to invest more significantly in its core chicken processing business.
The Goodfella's deal and any subsequent deal involving Fox's give 2 Sisters the financial breathing space to increase capital expenditure without adding undue stress to its balance sheet.
Ratings agency Moody's downgraded the business in December as a result of "low profitability" and "limited prospects of a material", but welcomed the deal as it will "improve its liquidity and reduce its refinancing risk".
Last month 2 Sisters announced that operating profits fell 58% to £8.4m in the 13 weeks to 28 October as the result of the shutdown of its West Bromwich chicken factory, as well as further margin pressures from rising commodity prices.
Nevertheless, illustrating the benefits of investment, its sales rose 3.8% to £849m as poultry volumes jumped thanks to an upgrade at its Scunthorpe facility.
Meanwhile, the deal signals a return to the acquisition trail for Nomad after its ambitious goal to build a frozen food behemoth by snapping up companies had been on ice for more than two years.
CEO Stefan Descheemaeker has been battling hard to turn around the group after its €2.6bn maiden acquisition of Birds Eye owner Iglo in April 2015 and £500m follow-up deal for the European arm of Findus failed to provide hoped-for growth.
Struggles in the frozen market in the UK – and across Europe – saw declining sales and a corresponding collapse of Nomad's share price in New York.
After floating as a special purpose acquisition vehicle at $10 a share in 2014, investor confidence in founders Martin Franklin and Noam Gottesman's goal waned. Shares sank to a low of below $7 by early 2016.
However, Descheemaeker pushed on with his plan to stabilise sales by progressively slowing the rate of decline in the top line through the execution of a 'Must Win Battles' strategy.
Investment in the core portfolio brands – along with synergies from the Findus takeover – started to pay off throughout 2016. And in 2017, which Descheemaeker called a "banner year", the group recorded three successive quarters of organic growth. It also ended the year on a high with updated guidance reflecting better-than-expected top and bottom-line performance during the fourth quarter.
Nomad now expects 2017 adjusted EBITDA to be around €328m versus the prior forecast of €325m to €327m, and organic revenue growth of about 5% for the fourth quarter versus prior guidance of 3%.
Goodfella's will contribute about €150m (£132.8m) a year in revenues, with adjusted EBITDA of €22m (£19.5m) to €25m (£22.1m).
Shares in Nomad leapt more than 4% when the deal was announced earlier this week and are now trading at more than $17 each.
Gottesman hailed the turnaround under Descheemaeker, commenting: "With strong organic revenue growth momentum, the time is right to expand into new strategic categories such as pizza, which offer adjacent avenues for further growth and synergies.
"The Goodfella's Pizza brands and team broaden our product offering and customer reach, and solidify our market leadership within the United Kingdom and Ireland."
The Goodfella's deal is undoubtedly a transaction that suits both parties. A Fox's/Burton's tie-up would also seem to make strategic sense for all involved, though The Grocer revealed last week that the £400m merger is sweating on securing funding to pull off the deal.
Whether institutional investors do eventually back the biscuit merger or not, it does seem the case that Boparan is now willing to let go of Fox's to help fund the necessary transformation of the core business.
"Better before bigger" has been a Boparan motto in recent years. Now he must follow through.