This year is a make or break one for Nisa. In July, Costcutter will leave the retail buying group - ending a more than 20-year relationship and taking £500m of Nisa's £1.5bn turnover with it - after forging a new joint venture and distribution deal with Palmer & Harvey. That leaves Nisa without its biggest member and it has forced the retail buying group to review the way it operates and transform itself into a more retail-focused operation.
Spearheading this transformation is new COO Amanda Jones. With a retail background spanning 25 years at Waitrose and Marks & Spencer. Jones is out to make sure Nisa can continue its record of strong trading. She feels liberated by the blank canvas she's been given.
"It would be easy to look over our shoulders and see what everyone else is doing," she says. "But having a real strategy and executing that strategy well is going to be the key to our success."
Jones admits she didn't know much about Nisa before joining on 29 April 2013, but "the more I found out about it, the more appealing it became". Shortly after, she was asked to describe her job in three words - she replied 'full of opportunities'.
"Nisa has been incredibly successful for a long time, but the convenience market is changing," she explains. "It has been successful at a time when the independents ruled the sector, but what we're seeing now is the multiples significantly encroaching into that territory.
snapshot
Name: Amanda Jones
Job title: Chief operating officer, Nisa
Born: The Midlands
Lives: Lincolnshire Wolds
Family: Married to Steve for 16 years, daughter Olivia (13) and dog Evie
Career background: 26 years in retail - Toys 'R' Us, M&S, UK and international, John Lewis and Waitrose, brief stint at Tesco when at college
Hobbies: Country walks, swimming and interior design
"One of the reasons the multiples have been so successful at this is their consistent retail execution - in terms of category management, understanding consumers and getting the best out of their sites. That's what Nisa needs to do - to become more consumer-centric and retail-focused."
Nisa's new strategy is based around three pillars: strengthening the consumer offer, building consumer engagement and simplifying the business. Key to this has been a new structure, developed in conjunction with CEO Neil Turton. Shortly after Jones joined they decided to create two new business units so Nisa could "better understand and support our retailers".
It now has a business unit for symbols - encompassing the 1,000 or so symbol stores that trade under the Nisa fascia - and a business unit for independents and specialists - those that trade under their own fascia but are Nisa members, such as McColl's Retail Group.
Nigel Gray, former retail and operations director at Spar wholesaler Henderson Group, joined Nisa last month as business unit director for symbol, while former Vodafone head of retail Steve Leach joined as business unit director for independents & specialists in January. "We need different capabilities and a different structural set-up," Jones explains. "Having two separate units gives us the opportunity to recognise and respond to the different needs of retailers. It gives us clear accountability and makes sure we are totally focused on driving growth and profit improvement."
The new approach has also gone some way towards simplifying Nisa. "The business has grown over nearly 40 years and it has become complicated as [services] have been bolted on," Jones says. "The good thing about outsiders coming in is their fresh pairs of eyes, which can help make us less complicated to deal with."
Other changes at Nisa's Scunthorpe HQ include bringing together its support teams to create what Jones describes as "a one-stop support team for our members".
Nisa's marketing team, which Jones admits was "pretty fragmented", has also been brought under the wing of marketing director Ian Bishop, who jumped ship from Costcutter in May last year. The team has been busy - a new TV ad launched this week; consumer leaflets have been redesigned, research on 1,000 consumers is underway to find out their views on promotions, and its charity Making A Difference Locally is in the process of relaunching.
It hasn't all been plain sailing, though. As part of Nisa's attempt at simplification, it has reviewed how it operates in Northern Ireland. Currently, when a retailer joins Nisa in the province, they get their main supply through Nisa but have to go through Food Force Ireland for local products. To simplify this, Nisa wants to take over FFI, but the move has been rejected.
"We've been in discussions for six months to find a solution that benefits retailers," Jones explains. "It got to a bit of a stalemate but we have now got to a place where there is recognition from both sides there is something to work with. So we are coming back to the table to discuss how we can make it work."
New formats
Jones is also using her experience at Waitrose and M&S to evolve Nisa's formats. At both retailers she developed a number of new retail concepts, including the M&S international franchise operations. Last month, The Grocer revealed Nisa had split its symbol estate into five new formats - neighbourhood, high street, small store (below 1,000 sq ft), forecourt and supermarket, following a detailed analysis of shopper missions. A store in Cardiff is already trialling the high street format, and a store in Peterborough is testing the neighbourhood concept.
"The good thing about outsiders coming in is their fresh pairs of eyes, which can help make us less complicated to deal with"
"We recognised the opportunity to develop propositions relevant to the market - how space is used and how the layout of a shop could change to meet the consumer mission and drive commercial benefit," Jones explains. "Cardiff and Peterborough are our first attempt at developing a concept for Nisa retailers that showcases a great look and feel, but is very much focused on commercial return. We're bringing some of that multiples experience to the symbol sector."
Nisa's 1,000-strong own-label range Heritage is also receiving a makeover. It features a new look that Jones believes will "blow most other ranges out of the water" as well as reformulated products. Currently worth £200m, Jones says it can grow to £500m. "Heritage is a classic example of where we have taken the multiples' approach," she adds. "We have done consumer focus groups, we've taken their feedback and that has shaped the creation of the range."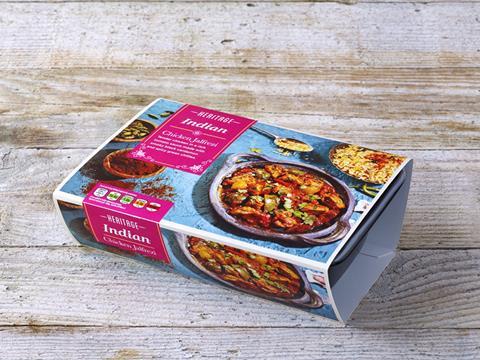 Nisa's recent entry into the supermarket price war is also another step in its transformation into a consumer-focused business. Last month, it reacted to Tesco slashing the price of a four-pint bottle of milk to £1 by introducing a two-for-£2 deal on two-litre bottles of Heritage milk. It was the only symbol retailer to do so.
"We've got two customers," says Jones. "In a wholesale world, the customer is the retailer. In the retail world, it's the end consumer. If we took a purely wholesale view we would negotiate a cost price and the retailer would choose the price they wanted to sell it at. But the consumer view is for us to negotiate a cost price so that all retailers can sell milk competitively at that price and still make money from it.
"We have got to enable our retailers to compete and making a price statement on something as emotionally important as milk was the right thing to do for our retailers."
Focus on existing members
Going forward Nisa's "deliberate focus" will be on existing members rather than chasing new recruits - something Jones admits Nisa needs to "get a better balance on". Recruitment has been prolific in the past 12 months - 692 new stores worth more than £140m. Bagging a contract for 330 McColl's stores was the biggest coup, but there's also a number of Costcutter retailers who have decided to switch allegiance - including Richard Williams, The University of York, Margiotta Food & Wine, and Dennis Graves.
It would be easy to assume Nisa's transformation over the past 12 months has been to prepare itself for losing Costcutter, but Jones is adamant this isn't the case. "With or without Costcutter, we needed to make these changes," she insists. "The convenience market is changing and continues to change. Our retailers look to us to be one step ahead of the game and we recognise we need to get a lot better."
Indeed, Costcutter has more to prove, argues Jones. "We see it more as Costcutter needing to persuade retailers they'll deliver what they've said they will. We are demonstrating we are a symbol retailer that is very well established. We've got an amazing distribution network. We've got an own-label range of real depth and breadth, that is unrivalled in chilled, and we are fast developing a retail support team that will be first-in-class in its sector."
So is it a make or break year? Definitely 'make', Jones says. "Expect a lot from us," she promises. "We will be much easier to deal with. We are getting much closer to our retailers' customers.
"And we'll be working really closely with our members to get their insight and input to create a culture of listening and taking action. We have control of our own destiny."