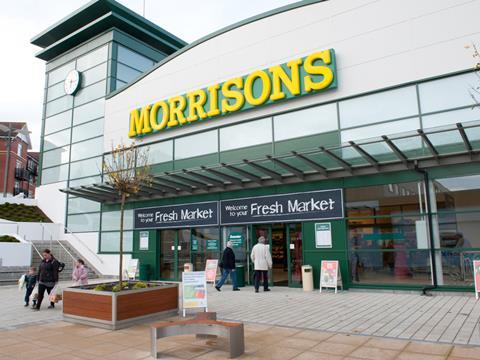 Morrisons' investors may be breathing a sigh of relief after the supermarket's near 10% share price recovery so far this year, but Bernstein analyst Bruno Monteyne poured the coldest of waters on the retailer's recovery today.
Morrisons' shares have rocketed since the announcement beleaguered CEO Dalton Philips will depart, but Monteyne argues that the Bradford-based supermarket's problems run far deeper.
"If this is a market of winners and losers, then the stock market thinks Morrisons is on the right side of the divide," he wrote today. "Reality will soon kick in."
"Morrisons is more broken than outgoing management team is willing to admit."
The supermarket has recently been trading at its highest level since May 2014 touching 200p, but Monteyne put a price target of 140p on the stock – suggesting a 30% plunge from today's opening price.
His chief argument in a detailed note on the supermarket is that Morrisons has not revised its earnings expectations since its stark profits warning of March 2014. While its rivals have made downwards revisions to earnings forecasts since then, Morrisons has not yet altered the guidance Philips gave almost a year ago meaning that the new CEO will be a "catalyst" for resetting forecasts.
He wrote: "The appointment of the new CEO will be catalyst for investors realising how big the challenge is. Dividend will be cut, margins cut further and additional time added for Morrisons to find its new identity."
Bernstein now expects a further sequential drop of 110 basis points in profitability in 2015/16, bringing underlying profit from this year's guided £325m-£365m range to £189m next year.
"Morrisons can't simply go back to the old days. Its historical place has been taken by the discounters. Morrisons does not yet know what it can offer UK consumers that is a valid alternative and sufficiently different from Asda and the discounters. Morrisons is a round peg in search of a square hole," Monteyne said.
"From 2016/17 onwards, the path of gradual recovery starts, but it will be slow in a shrinking industry."
Monteyne is not the only market observer with doubts about Morrisons' share price rally.
Exclusive research from financial information provider Markit for The Grocer last week showed that hedge funds had started short-selling Morrisons shares in significant volumes.
On 7 January, when Morrisons' share price was 171.4p, 11.9% of its stock was on loan, but this had climbed to 13.2% by 20 January as the share price rose to 193.4p.
The amount of Morrisons stock on loan close to the annual high of 14.2% recorded in November – a sharp rise from the 4.2% on loan in March 2014.