No baskets, no branding, no warehouses, no advertising, no shelves, no social media. There's a word for Mere and it is 'austere'.
"You won't see any frills, shelves or points for convenience," says Mere UK business development manager Aleksandr Chkalov. "Because we are focused only on the offer. The most important thing in our store is the price tag. It must be the lowest of any on the market."
Russian-founded Mere is an ultra hard discounter, claiming to undercut the likes of Lidl and Aldi by 30%. The method is clear. Yellow sheets of A4 stick to the side of pallets showing the name of the single SKU they contain and its price in bold, black font.
The first Mere store in the UK, located on the site of a former Nisa in a quiet Ribbleton shop parade, has been stripped of luxuries like plastering and chiller cabinets in favour of exposed blockwork walls and a refrigerated cold room.
It seems Mere's only attempt at decoration has been a continuation of the colour yellow across signage, tills, wall paint and employee uniforms. In fact, the promotional materials in the exterior wall-mounted frames do not appear to have changed since Nisa occupied the space.
Despite the lack of amenities, queues formed outside the shop half an hour before it opened its doors for the first time on Saturday 14 August.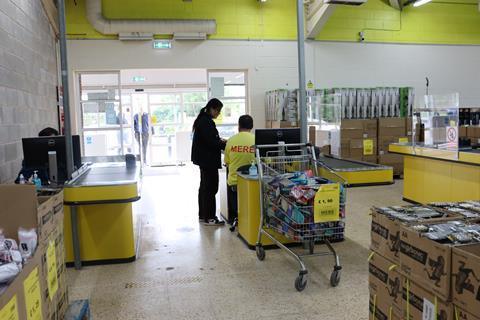 Weekly shop
At present, the cold room contains a single meat SKU, Riley's pork sausages (rsp: 99p/360g), yoghurt and a plentiful supply of cheese from cheddar (rsp: £2.70/600g) to the more exotic beyaz peynir (rsp: £1.70/800g). The chilled room contains the only shelves in the store – everything else is in pallets, cages or trolleys – but there is no concession to organisation. Products sit where there is space for them, in some cases spread across multiple shelves on different walls.
Although not yet fully stocked, staple items such as bread and fresh produce are notably absent. The freezer chests are filled with an array of fish SKUs, but nothing else. Elsewhere, there are plenty of ambient goods from confectionery to pasta, rice and tins of mackerel.
"We want to introduce more meat products, dairy products, eggs, the kinds of products every customer needs to see in their trolley everyday," Chkalov tells The Grocer.
However, he acknowledges Mere will "never" be the destination for a full weekly shop. "We'll put the products with the lowest prices on pallets in our stores, but unfortunately it is impossible to do that for every product that people need."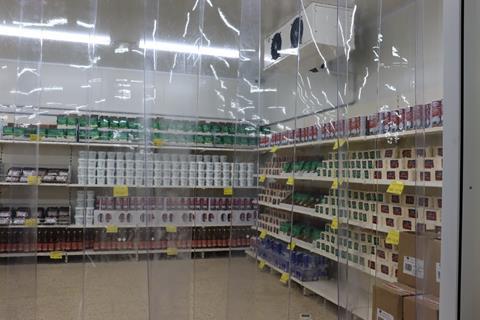 Walking past some chopped tomatoes by a Turkish brand called Tat, he is keen to dispel the notion that low prices means low-quality, well, tat. "Yes, it's about rock-bottom prices, but that doesn't mean bottom quality. It's about value. If we could secure a Mercedes at 50% off, it would be on the shop floor."
Those products Mere has been able to secure super-low prices for include a host of household names, such as Nescafé, Lenor, Cushelle, Dove and Tresemmé, as well as some more obscure brands.
Price vs quality
The retailer doesn't do promotions, but Nescafé's Azera Latte is £1.90 in Mere, whereas in the major mults it sells for around £3.50 or £2.50 on promotion. There are boxes of 240 bags of PG Tips on sale for £1.75, a 700g box of Shreddies is £1.30 and a pack of 22 Pampers nappies is £1.90.
The reason Mere can offer such low prices is its singular focus on cost saving.
For the majority of SKUs, the store puts in orders after seeing how the product sells, then suppliers will deliver direct to the store at an agreed time. There are no warehouses and little to consider in the way of logistics.
Nothing stays in the back of the shop. It goes from the delivery vehicle onto the shop floor still on the pallet to save time and money.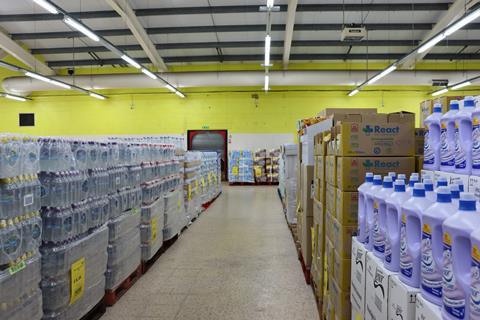 It also presents an opportunity for more local suppliers, which couldn't necessarily meet the demands of national supply to the mults. For example, most of the cheese products in Mere are made by Preston dairy Dewlay.
The store runs on a skeleton crew of eight members of staff in Preston, each of whom fulfil a variety of roles restocking and checking customers out. Although Mere doesn't build customer service into its model, the staff are knowledgeable about retail, if slightly bemused by Mere's set-up, and perfectly happy to help if they have a second.
Though vastly different from rivals Lidl and Aldi, Mere retains the classic discounter middle aisle, filled with surprising goodies, including but not limited to:
Carry-on suitcases (£6.90)
Barbecue utensils (65p)
Daewoo vacuums (£17.90)
Daewoo portable speakers (£17.90)
A range of DVDs (£1.10 for three)
Sets of Top Trumps (£1.90)
Body pillows (£5.60)
Children's rucksacks (£1.10)
Holdalls (£3.90)
Wastepaper baskets (£1.90)
A vast array of children's toys.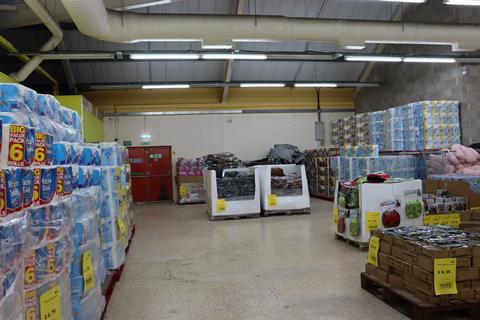 Tiers
While Aldi and Lidl have pivoted to offer a broader selection of premium products as their popularity grows with the middle classes, Chkalov says Mere is committed to just the two tiers for now: basic and mid-range.
For some big-selling items, such as toilet paper and kitchen roll, this is a strategy already in place. At the lower end, it stocks stacks of Luxe (rsp: £2.70/24 rolls) and an unbranded kitchen roll (rsp: 79p/six rolls), while in the mid-tier range it has Cusheen (rsp: £3.70/24 rolls) and Pow (rsp: £1.75/nine rolls) piled high.
"We sold two pallets' worth of one SKU in the first day," says Chkalov. Customers don't need a lot of convincing, he adds. "People are surprised by the layout, it's something new for them."
He is ready to surprise plenty more too, with ambitions to open 300 stores in the UK in the next 10 years. More immediately, Mere's second store in Caldicot, southern Wales, is slated to begin welcoming customers in late September .


Rachel Graham is Digital and Social Editor at The Grocer