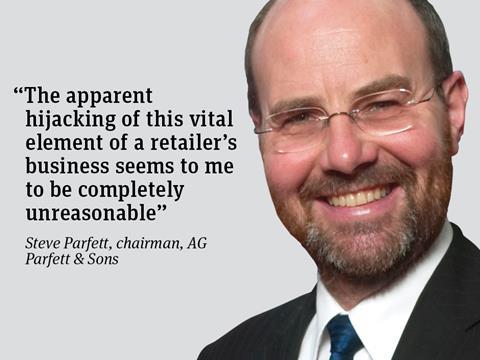 I have not infrequently referred to abuse of power by multiple retailers, but want to address this issue in relation to another company I have mentioned before in this column: PayPoint.
In fairness to PayPoint, the last time I did so they were quick to contact me and arrange a meeting to explain their point of view, and while they didn't entirely persuade me of their case, they were constructive and honest.
In that case I addressed terms, but, unexpectedly, one of their initiatives to address the original problem is now causing myself and other wholesalers further concern.
The issue revolves around the introduction of an EPoS point-of-sale system for independent retailers. I don't believe that this is wrong in itself, but it now seems PayPoint are insisting that all retailers who wish to continue to offer PayPoint services will be required to adopt this system to run their stores rather than any other available to them – and, even more onerously, PayPoint will then receive all the data from the system and be free to use it at will.
Tim Mason of Eagle Eye said in Talking Shop in January: "In retail data is transforming everything…" and "the smart use of data across the entire retail operation enables retailers to truly earn the holy grail of customer loyalty and advocacy." Given Tim's experience at Tesco with Clubcard, I think he can justifiably claim to know what he is talking about.
Despite my previous reservations about terms, PayPoint is by far the dominant player in payment applications in independent retail, and many retailers still see them as an essential part of their offering.
The apparent hijacking of this vital element of a retailer's business and the requirement to allow this as a price of offering PayPoint services seems to me to be completely unreasonable, and I know that none of PayPoint's multiple customers would dream of allowing them to impose this condition.
Wholesalers do, of course, have a vested interest to declare. An important part of any symbol group's offering to its members is an EPoS system. The difference is that the retailer has a choice as to whether to use the system, and in most cases it is not a requirement of membership.
Even where it is, a retailer can vote with his feet. Additionally, symbol groups will actively work with members to access benefits of using the data to mutual advantage.
In the current market I would argue that PayPoint's dominance means their use of these terms is abuse of a dominant position and should be strenuously resisted by both independent retailers and their partner wholesalers.
Steve Parfett is chairman of AG Parfett & Sons
PayPoint responds:
"Existing PayPoint retailers have the choice as to whether they upgrade to PayPoint One. Our retailers tell us that in some cases they are currently using legacy technology that no longer fully supports the growth of their business - this is reflected in the existing PayPoint One roll-out. We are very pleased to report that over two-thirds of the those running the new PayPoint One platform are existing PayPoint retailers who have actively chosen to upgrade.
"We continue to work closely with our retail partners to level the playing field and ensure they have the same technological capability that larger rivals deploy. We're also having productive conversations with key symbol and wholesale groups about how they can integrate with PayPoint One. For more information about PayPoint One, retailers should contact their PayPoint representative."