Making a career in wholesale more attractive to women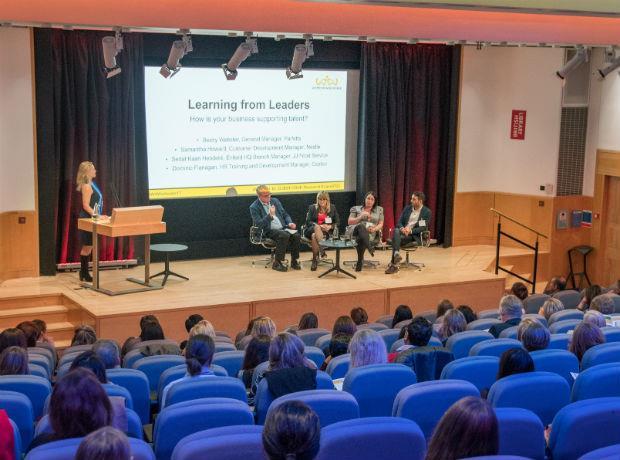 What are the best words to advertise a career in wholesale? Challenging? Competitive? That might just put women off applying, according to AF Blakemore's gender progression focus group.

The Spar wholesaler is tackling the gender divide after it emerged only 18.5% of its senior managers and 13.1% of their directors are female, equating to only nine out its 57 employees in top positions.

At the recent Women in Wholesale conference last week, AF Blakemore HR director Ian Diment addressed the core issues behind this inequality in senior leadership.

For him, job ad wording is just one of many factors. There are those that affect all industries - namely, the cultural expectations to take off the minimum time possible to look after children. There's a degree of scepticism towards flexible working too, with the perception that it is 'slacking off'. All of which has contributed to a lack of female role models balancing children and careers who could pave the way for others.
But there is also a problem specific to wholesale: a traditionally male-dominated image that can prove intimidating to women breaking into the industry. As Parfetts general manager Becky Webster explains, even networking events proved a challenge.

"Quite often there were corporate events held, be it a golf day or a day at the cricket, and that was something that I was never included in which really frustrated me. Because those events were vital for networking, building up business relationships." . So what is the wholesale industry doing?
The wholesaler initiatives
AF Blakemore is looking closely at where and how it is advertising jobs to standardise its recruitment practices. This includes how it deals with internal opportunities.

"This year we've changed the process so rather than managers putting names forward, and those being predominantly male, we're asking people to put themselves forward for a line manager endorsement, and that generated more female applications," says Diment.

The strategy seems to be paying off across all areas of the business. Since last year, the number of female applicants for AF Blakemore's ILM apprenticeship has doubled from 25% to 50%. On its graduate scheme, there are now 14 women and 13 men, a balance which the wholesaler is looking to retain and progress through to leadership positions.
AF Blakemore also plans to roll out educational inclusion workshops on affinity bias and unconscious bias to promote diversity.

Costco has invested in the rollout of an online women's network, Journeys. The site is dedicated to "helping women succeed through educational, mentoring, and networking opportunities" and has already racked up over 14,000 members. "It allows our female employees to come to a meeting where it's their meeting, and they can network and they can then work with female leaders in our business where we have progressed and ask the question, well what did you do?" says Costco training and development manager Dominic Flanagan. This is already having a tangible effect, with the percentage of women in senior leadership roles rising from 25% to over 30% since the network launched in 2007. 
Flanagan says there is also a need to challenge assumptions about women's job roles and capabilities. "There was the perception that you were a woman so why would you want to drive a forklift truck, it's dirty and it's hard work, and so we have to break these barriers down," Webster explains.

JJ Foodservice has found even small practical changes can make a big difference. For example, some wholesale warehouses lack even the most basic facilities for women.

"There were no female washrooms or no changing rooms. These are very very small things that can make a huge difference and they don't cost a lot," explains COO Mustaque Ahmed.

"But it has to be part of the mindset that when we're building new warehouses distribution centres or office spaces these things are not forgotten."

JJ Food Service has adapted accordingly. The introduction of trolleys has made it much easier for women to carry loads around the warehouse. The company backed this up with new recruitment posters picturing women in warehouses, providing an alternative to the male-dominated narrative.

As a result of its 'Women in the Warehouse' campaign, the percentage of its female employees working in warehouses has risen from zero to 13% in the past six months, with Ahmed "pretty confident" of reaching the company target of a 20% female workforce.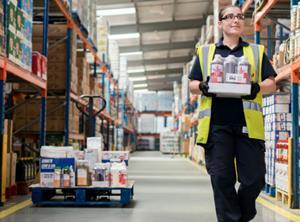 Flexible working
Recruiting women is only half the battle. The key is retaining talent. Flexible working hours and providing a healthy work-life balance is an important battleground in this context. When flexible working was first introduced, it received an initially negative reaction across wholesale. With some wholesale units operating from 4am or 5am to 10pm at night, a shift towards flexible working was far from ideal.
However, Nestlé customer development manager Samantha Howard says attitudes are changing. "The way Nestlé supports that talent, and supports all our women and men too, is through the flexible working we have. We are actively encouraged to remotely work. We have so much technology now - we have smartphones, laptops, we even have Skype. We don't need to be in the office to have a face-to-face meeting nowadays."

Nestlé now has its very first part-time head of divisions in its nutrition director of sales, and is looking into making more senior roles part-time, removing a stumbling block to working parents.

"One of the aspirations is that every business-critical role within Nestlé has a woman on the succession path" Howard says. .

The FWD is also launching a flexible working pilot with TimeWise and will host wholesaler consultations next month. This will culminate in a flexible job design programme to be released in the spring.

Companies are also working to provide more support for fathers, taking the pressure off women as primary caregivers and allowing them to balance a career and childcare. AF Blakemore is looking to develop and promote more family-friendly policies, encouraging men to take paternity leave.

Costco's Flanagan believes a top-down approach is essential in changing perceptions towards flexible working among a male workforce. "If senior leaders say, 'I'm going to take paternity leave' somebody else will go, 'Well that's okay then.' That's the only way you'll change the culture. I think it's very hard to drive it from the base up; it's got to [come from] the leaders.

"I would like at some point we just say we have workers. So when somebody joins our business we say, 'This is the role, can you do x? If you can do x, here's the rate of pay,' so there's no disparity right through the business."