Co-op Group unveils £22m Avonmouth distribution centre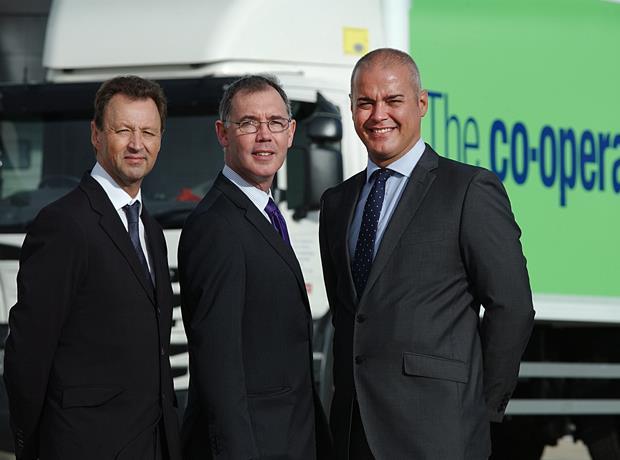 The Co-operative Group has officially opened its £22m new distribution centre in Avonmouth.
The 435,750 sq ft multi-temperature depot is expected to be fully operational by May 2013, when it will employ about 900 staff and will deliver up to 1.2 million cases per week to almost 500 stores in Bristol, North Somerset and South Wales.
Avonmouth has been awarded a BRE Environmental Assessment Method rating of Excellent and an Energy Performance Certificate rating of A - the highest possible score. It features rainwater harvesting to reduce water demand and energy-saving lighting, which will provide a 60% decrease in energy costs.
A plaque was unveiled at the site by The Co-op's chief executive, Steve Murrells (pictured left), COO Sean Toal (right) and distribution general manager Adrian Buxton (centre). They were joined by director of food IS and supply chain Mark Hale, and food stores and logistics director David Mockford, as well as special guests Charlotte Leslie, MP for Bristol North West and Avonmouth ward councillor Dr Doug Naysmith.
"Our new composite distribution centre is a major investment, which will provide significant employment locally and will boost the local economy," said Murrells. "Avonmouth is in the perfect location to serve our stores across the South West and South Wales, and is the latest major investment in our logistics network.
"The new depot is vital in ensuring our food stores throughout the region continue to give Co-operative customers the high level of product availability and service they expect and I am delighted to be opening this new depot."