Hard seltzers – or 'spiked' sparkling waters – have taken the US booze market by storm in recent years. Now the craze is picking up speed in the UK, with startups, major brands and even some retailers launching their own versions. We take a look at the products available.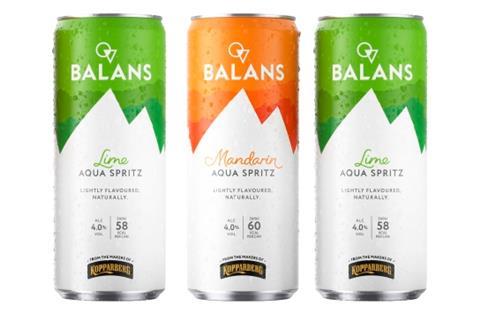 Balans
The launch of Kopparberg spinoff brand Balans in January 2019 marked the first move outside of cider for the booze giant. The pair of 'aqua spritz' drinks – in Lime and Mandarin flavours – first launched into Asda and have since rolled out to Tesco (rsp: £1.70/250ml).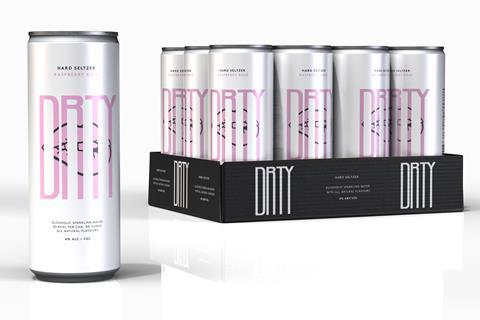 Drty
Like most American hard seltzers such as White Claw, UK startup Drty uses fermented fruit to create the alcohol base for its drinks. Its two initial flavours, Raspberry Rosé and White Citrus, launched into Ocado, Amazon and 31Dover in October 2019 (rsp: £2.20/330ml). These were joined by a Mango Passion flavour in October 2020. All three are now stocked in convenience stores across the country and in retailers such as Daylesford, Whole Foods and Simply Fresh in the capital.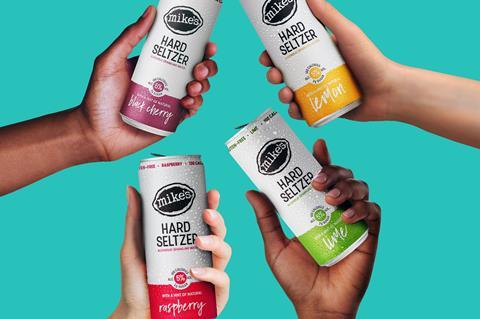 Mike's
Mike's made its UK debut in November 2019 when it launched into the convenience channel. Its initial three flavours – Lemon, Lime and Black Cherry – were later joined by a Raspberry variant in October 2020. The brand is listed in Tesco and Morrisons (rsp: £1.99/330ml) and cases of the 5% abv seltzers are available to buy online.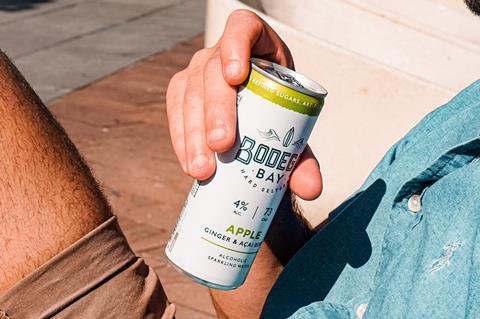 Bodega Bay
First listed as a trial in Sainsbury's Taste of the Future bays in December 2019, startup brand Bodega Bay is now a permanent feature at Sainsbury's and Morrisons (rsp: £2/250ml). Offering two flavours – Apple with Ginger & Açai Berry and Elderflower with Lemon & Mint – the brand recently landed a distribution deal with booze giant Molson Coors, which plans to roll it out across the rest of the mults and convenience.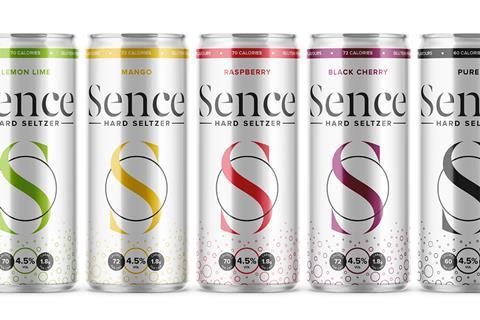 Sence
Following a soft launch in February, London brand Sence now sells a five-strong range via its online store. The 4.5% abv drinks, which come in Lemon Lime, Mango, Raspberry, Black Cherry and Pure variants, are sold in four, 10 or 12-can packs (rsp: £7.95-£18.95). As well as becoming a drinks partner of WW at the end of May, Sence recently signed a deal with Co-op supplier Enterprise and has been in talks with Tesco.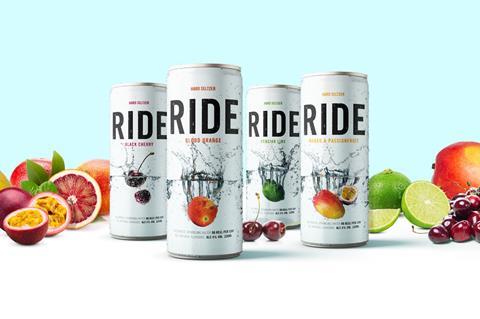 Ride
Produced by Allendale Brewery at its site in Northumberland, Ride hard seltzer launched at the end of March. The brand offers four flavours - Black Cherry, Blood Orange, Persian Lime and Mango & Passionfruit - from its online store and is set to start selling on Amazon (rsp: £2-£2.50/330ml). Ride is also stocked in independent shops, pubs and restaurants and exports to Japan, Norway and Ireland.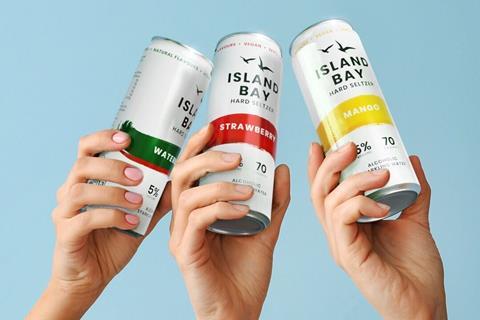 Island Bay
Officially launched in April, Island Bay is now stocked in independents and convenience stores across the country, including Best-One, Spar and Nisa (rsp: £1.90/250ml). Available in Watermelon, Mango and Strawberry flavours, the drinks boast vegan, gluten-free and keto-friendly credentials.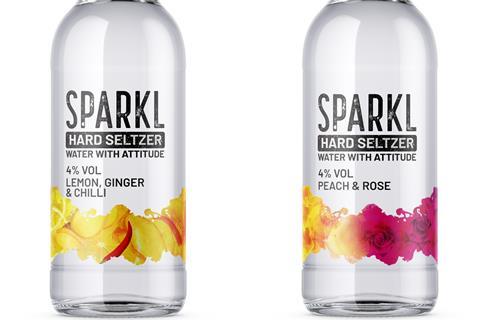 Sparkl
A duo of bottled hard seltzers from Sparkl were first announced last year and came to market in April. The drinks come in Lemon, Ginger & Chilli and Peach & Rose flavours and are stocked nationwide in Morrisons (rsp: £2.50/330ml). They are also available to buy in bulk from the brand's online store (rsp: £30/12x330ml).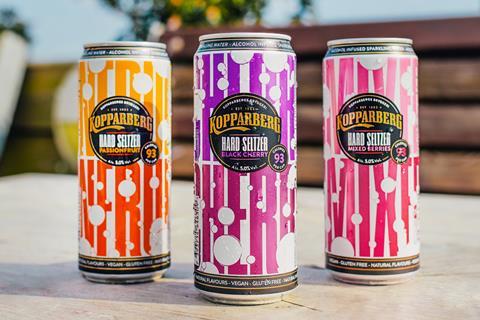 Kopparberg
Strengthening its presence in the hard seltzer market – it launched spin-off brand Balans in 2019 – a branded trio from Kopparberg hit stores in May. Available in Mixed Berries, Black Cherry and Passionfruit flavours, the drinks are made with the brand's trademarked 'KopparSpirit', an alcohol base which leaves behind no residual sugar. Kopparberg says the drinks, which are available in Tesco and Morrisons (rsp: £2.20/330ml), deliver "a far fuller flavour to anything currently available on the UK hard seltzer market".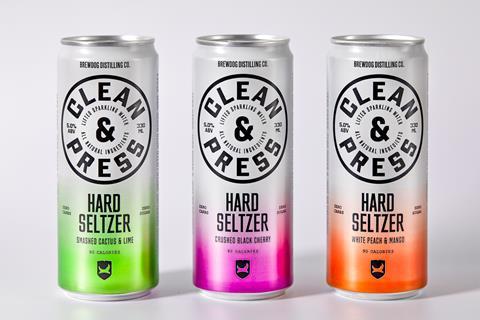 Clean & Press
Craft beer giant BrewDog made the move into seltzers in May with the launch of Clean & Press. Featuring three flavours – Crushed Black Cherry, White Peach & Mango and Smashed Cactus & Lime – the range uses BrewDog's Rogue Wave vodka as a base. The range is available to buy direct from the brewer's online store (rsp: £30/12x330ml).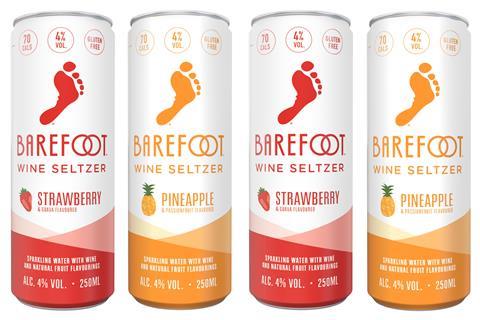 Barefoot
Hard seltzer purists look away now, because wine brand Barefoot has launched its own take on the drink. Where seltzers are traditionally made by combining sparkling water with a base spirit, this duo uses white wine and natural fruit flavours. Launched into Tesco in May, the drinks are available in Pineapple & Passionfruit and Strawberry & Guava flavours (rsp: £1.80/250ml).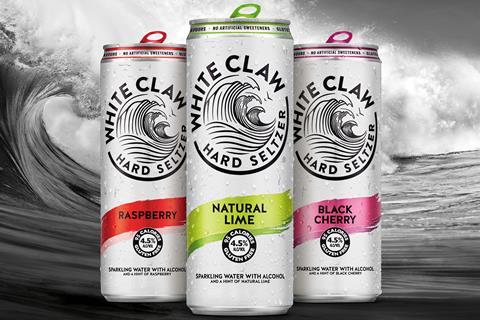 White Claw
If any brand could be said to have sparked the hard seltzer craze, it's White Claw. The US sensation, which bills itself as a 'spiked' sparkling water, has gained a cult following across the pond and now, after months of speculation, it has hit the UK too. The brand launched into Tesco, Sainsbury's and Morrisons at the start of the month, marking its first venture outside of the US and Canada. The drinks are available in 330ml cans and feature Raspberry, Natural Lime, Black Cherry and Mango flavours (rsp: £2.50/330ml).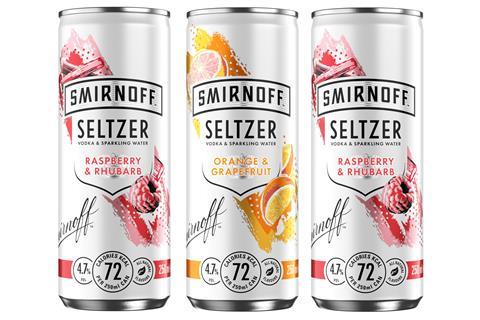 Smirnoff
Framed as "a lighter-calorie option to wine and beer", a pair of hard seltzers from Smirnoff rolled into Sainsbury's, Tesco and Waitrose in June (rsp: £1.80/250ml). The Raspberry & Rhubarb and Orange & Grapefruit drinks are made with Smirnoff's No.21 Premium Vodka, combined with sparkling water and natural fruit flavours. They contain 72 calories per can.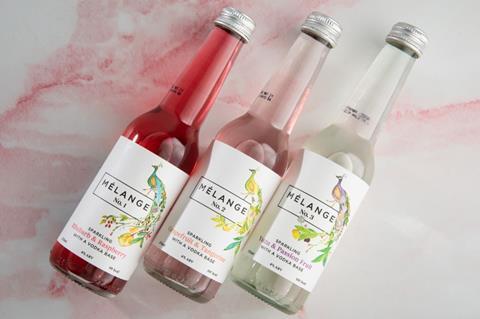 Mélange
Billed as 'the alcoholic sparkling water with a touch of class', Mélange launched its trio of bottled seltzers at the end of June. The drinks feature a vodka base and come in three flavours: Rhubarb & Raspberry, Grapefruit & Tangerine and Yuzu & Passion Fruit (rsp: £3/275ml). They are available to buy via the brand's website and at Eat17 and Harvest E8 stores.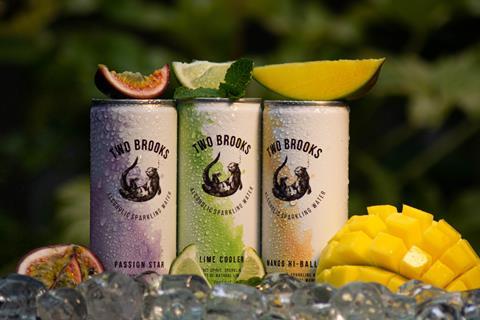 Two Brooks
Founded by brother and sister team Fabio and Francesca Bruni, Two Brooks launched its three-strong range on its online store this month. The brand offers three flavours – Lime Cooler, Passion Star and Mango Hi-Ball – and sells in cases of 12 (rsp: £29.99/12x250ml). The drinks are also set to launch on Amazon.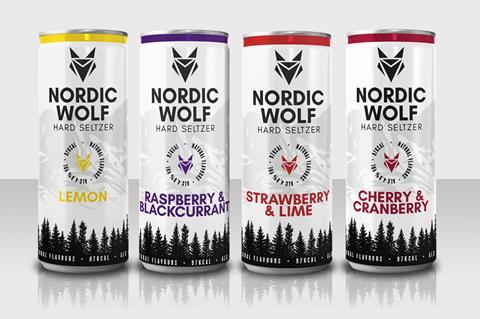 Nordic Wolf
Aldi has jumped on the bandwagon with its own take on White Claw, called Nordic Wolf. The own-brand range, which features Lemon, Strawberry & Lime, Cranberry & Cherry and Raspberry & Blackcurrant flavours, is set to hit shelves in mid-July. The 4% abv drinks will retail at £1.29 per 330ml can, just under half Tesco's £2.50 price for White Claw.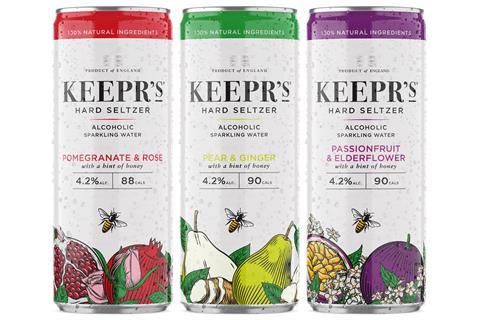 Keepr's
The British Honey Company is expanding its Keepr's spirits brand with a range of "premium" hard seltzers, which come in Pear & Ginger, Pomegranate & Rose and Passionfruit & Elderflower flavours. The drinks are made with a potato vodka base and 100% natural ingredients, including a hint of British honey from the company's own hives. Single and mixed flavour cases can be purchased at the brand's online store and through Amazon (rsp: £2.75/250ml).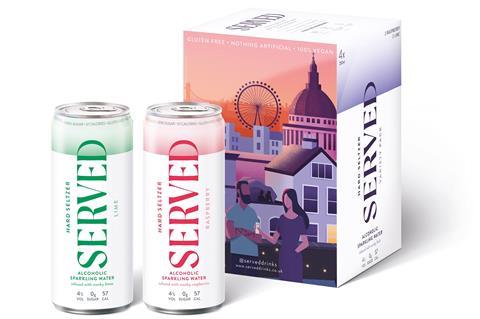 Served
Set to launch initially into Selfridges on 22 July, Served hard seltzer is made from British sparkling water and 'wonky' fruit that would have otherwise gone to waste (rsp: £2.50/250ml). Available in Lime and Raspberry flavours, Served has recived financial backing from Seedlip investors Mike Branson and Jonathan Ford, Dash Water investor Bradley Berman and CrowdCube founder and CEO Darren Westlake. The drinks will go live on the brand's online store in August.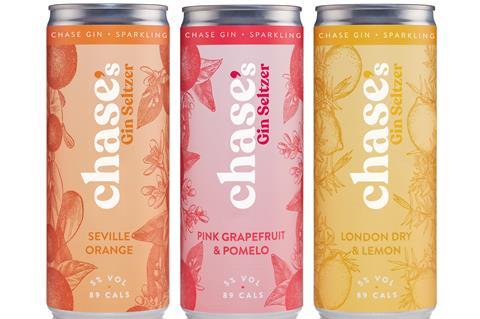 Chase Distillery
Herefordshire spirit maker Chase Distillery announced in July that it would be jumping on the craze with a trio of gin seltzers. Each of the drinks, which come in Pink Grapefruit & Pomelo, Seville Orange and London Dry & Lemon flavours, will feature one of the distiller's bestselling craft gins mixed with sparkling water. The are available to buy on the brand's website as a trio (rsp: £7.50/3x250ml) or case of 12 (rsp: £30/12x250ml).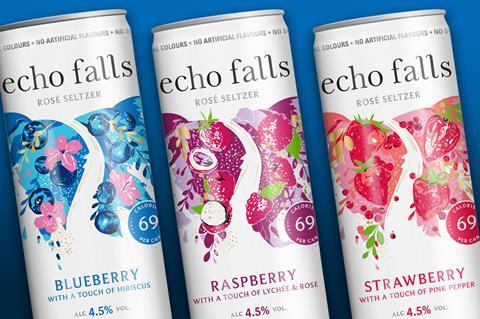 Echo Falls
Aimed at shoppers who want to moderate their alcohol consumption, Echo Falls' range of Rosé Seltzers features Blueberry & Hibiscus, Strawberry & Pink Pepper and Raspberry, Lychee & Rose variants (rsp: £2/250ml). The trio launches into supermarkets and convenience stores from August.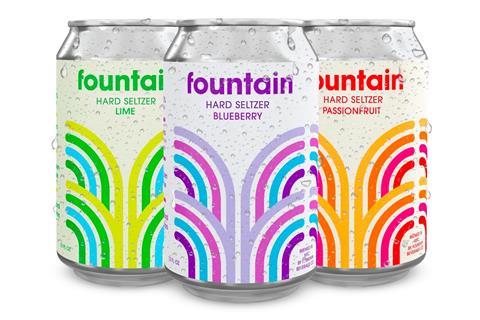 Fountain
Founded in New York City and made in a craft brewery inside the Mets stadium, Fountain made its move to the UK in August. It initially launched a trio of flavours - Lime, Blueberry and Passionfruit - and added a further four in October: Watermelon, Mango, Pineapple and Tart Cherry. All seven flavours are now sold via the brands online store in various case sizes, from the Mini eight-pack to the 48-can Party Pack (rsp: £2.10/350ml).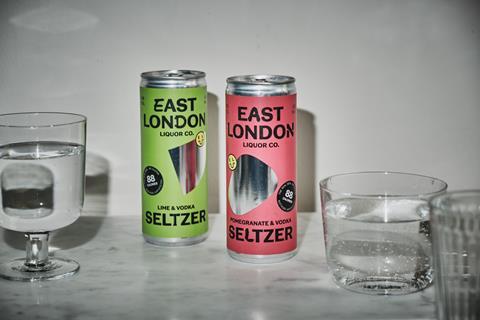 East London Liquor Co
Described by the brand as 'juicy, moreish and sophisticated', East London Liquor Co announced it would be lauching a pair of hard seltzers in September. The drinks are made with the distillery's own vodka and come in Lime and Pomegranate flavours, with a cucumber variant set to join the lineup later in the year. They can be purchased from the brand's website (rsp: £24/12x250ml) and Whole Foods stores.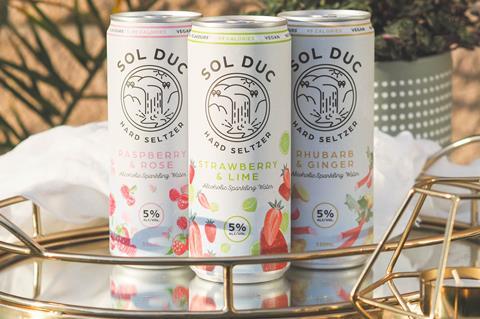 Sol Duc
The latest venture for cider maker Aston Manor, Sol Duc hard seltzer hit the brand's web store in September 2020. Meaning sparkling or magic water, Sol Duc is named after a waterfall in Seattle - the home of Aston Manor's sister business, Seattle Cider Company. The drinks are made with sparkling water, vodka and natural fruit flavours and come in three variants: Raspberry & Rose, Strawberry & Lime and Rhubarb & Ginger (rsp: £2/330ml).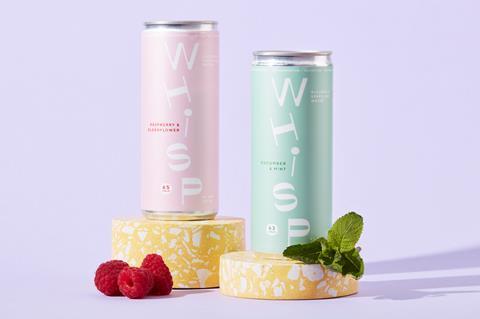 Whisp
Created by personal trainer Harriet Cuming, Whisp hard seltzers launched in September 2020 in Cucumber & Mint and Raspberry & Elderflower flavours. Not only are they low-calorie - each can contains less than 66 - but the 'detoxing' drinks also feature milk thistle to tackle inflammation and help support a healthy liver. They can be bought from the brand's website (rsp: £2.50/250ml).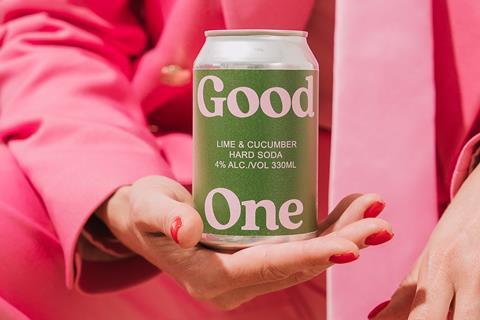 Good One
Good One is looking to "fill the niche of craft" in the hard seltzer market with its range of boozy sodas, which are made with real fruit juices and alcohol distilled from scratch. Available in Lime & Cucumber, Cloudy Grapefruit & Thyme and Raspberry, Basil & Lime flavours, multipacks of the drinks will be sold on the brand's website from October (rsp: £33/12x330ml).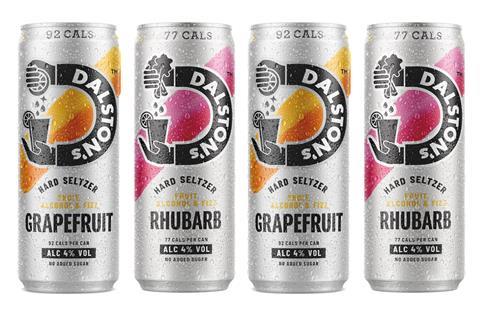 Dalston's
East London soda brand Dalston's has announced it will be moving into hard seltzers as "it would be rude not to join the party". The company, which already sells a range of non-alcoholic seltzers, will launch the boozy pair in October. The Rhubarb and Grapefruit drinks will be available online, on Amazon and at independent grocers (rsp: £2.49/330ml). It is the first move into booze for the brand, which launched a duo of alcohol-free gin & tonic cans in January.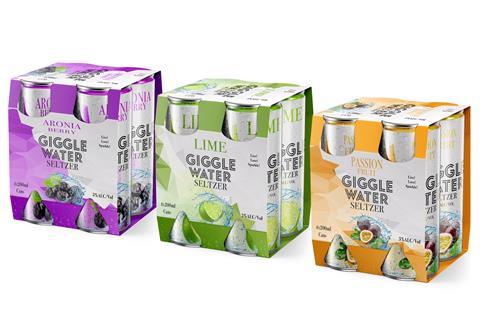 Gigglewater
Set to launch via the brand's revamped DTC website in October, Gigglewater's three-strong range of flavours comprises Passionfruit, Lime and Aronia Berry - a sour berry also known as chokeberry. The 5% abv drinks are made with a base of apple wine and contain 90 calories per can (rsp: £2.25/200ml).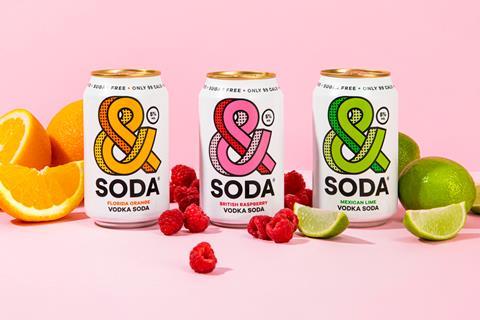 &Soda
It's not technically billed as hard seltzer, but &Soda's range is bang on the spiked sparkling water trend. Made by combining soda water with vodka and fruit extracts, the drinks come in three flavours: Florida Orange, British Raspberry and Mexican Lime. They launched into Tesco in October and are also available online (rsp: £2.25/330ml).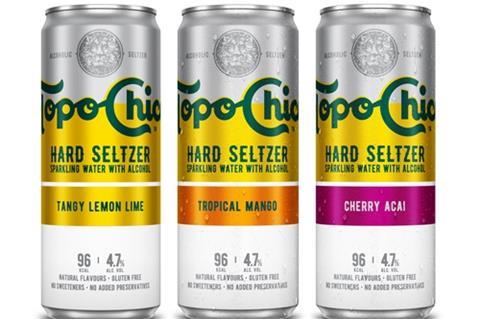 Topo Chico
After much speculation, Coca-Cola announced it would be joining the hard seltzer market in October 2020. Inspired by American sparkling water brand Topo Chico, the seltzers are the first move into alcohol in the UK for the soft drink giant. The range will roll out in November in Tangy Lemon Lime, Tropical Mango and Cherry Acai flavours.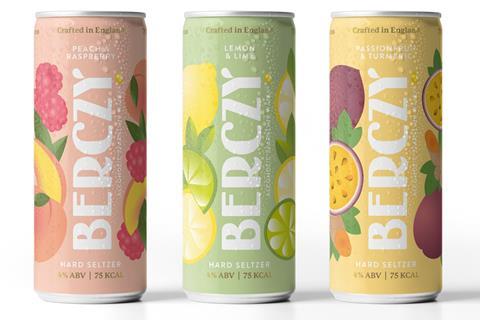 Berczy
First launched as Natrl in June, Berczy hard seltzer relaunched with a new name and new look in November. Founders Nick Graham, Nick Johnson and Matt Richardson decided to make the range "stronger, bolder and more market-challenging", naming it after a Toronto park they visited in 2019. The drinks are available online in Peach & Raspberry, Lemon & Lime and Passionfruit & Turmeric flavours (rsp: £2.30/250ml).
High Water
The brainchild of Diageo's former head of innovation Nick Britton, High Water was born during lockdown and launched in December 2020. Made with natural flavours, triple distilled vodka and Cotswolds spring water, the drinks aim to bring "a new standard for taste and design" to the UK hard seltzer market. They are available in Cucumber & Mint, Lemon & Elderflower and Mango & Peach flavours, with 1% of all profits going to marine conservation charity Just One Ocean (rsp: £2.50/250ml). They can be purchased from the brand's website and are set to launch on Amazon.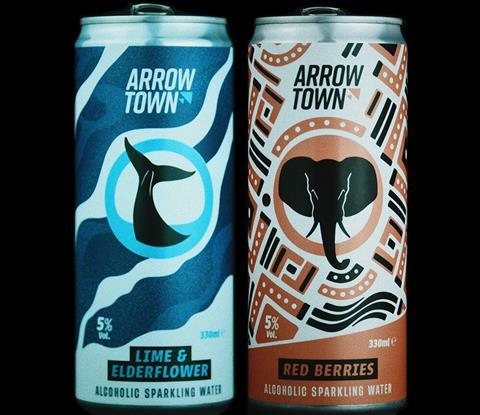 Arrowtown
Founded by brothers Rob and James Smith, who had grown tired of "bloating beer and sugary mixers" whilst at university, Arrowtown launched a duo of alcoholic sparkling waters in December 2020. The brand – named after the New Zealand town where Rob first tried the drink – also supports environmental charities through the sales of its Red Berries and Lime & Elderflower drinks. For each can sold, 10% of profits is donated to either Tusk or Sea Shepherd. The drinks are available through the brand's web store in cases of 12 (rsp: £2.33/330ml).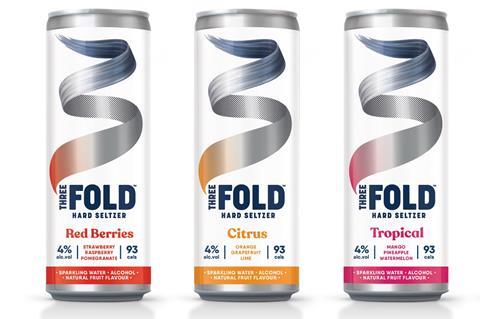 Three Fold
Booze giant Molson Coors is set to launch its first hard seltzer in 2021, called Three Fold to represent "its three-fold characteristics – refreshment, flavour and low-calorie". The range will debut in retail with three flavours – Red Berries, Citrus and Tropical – before launching in DTC.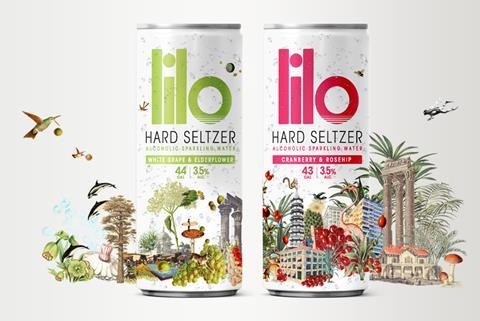 Lilo
Lilo launched what it claims is the UK's 'lightest' hard seltzer in January 2021. The 3.5% abv drinks come in White Grape & Elderflower and Cranberry & Rosehip flavours and contain less than 44 calories per can (rsp: £2.50/250ml). They are available from the brand's website and from online Scottish drinks retailer Craft56.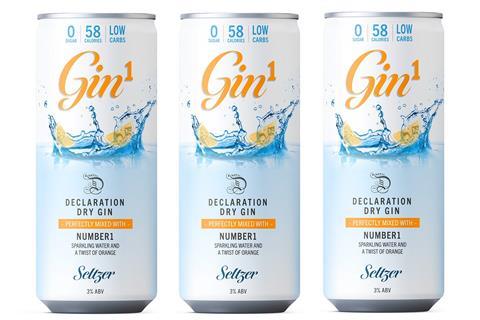 Gin1
Number1 Sparkling Water has teamed up with Declaration, the gin brand co-founded by former England cricket team captain Michael Vaughan, to launch its first hard seltzer. Flavoured with 'a twist of orange', Gin1 is sugar free and has 58 calories per can. It went on sale on the Number1 website in January 2021 (rsp: £2.95/250ml) and will be followed by a Vodka1 seltzer in March.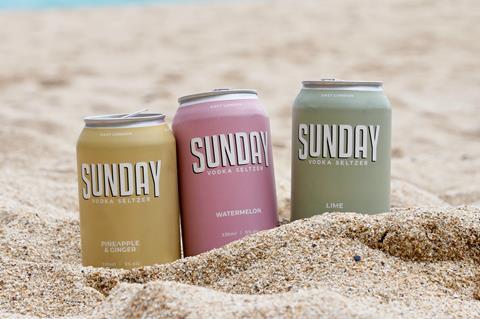 Sunday
East London's Sunday Seltzer Co kicked off 2021 with the launch of three vodka seltzers. Available in Pineapple & Ginger, Lime and Watermelon, the 5% abv drinks are flavoured with natural fruit juice and contain less than 100 calories per can (rsp: £2.50/330ml). They can be purchased in multipacks from the brand's website.
Two Days
Startup Two Days debuted in February 2021 with a pair of "sessionable" vodka sodas, which went on sale in Whole Foods Market (rsp: £2.49/330ml). The 3% abv drinks come in Vodka Raspberry Soda and Vodka Lime Soda variants and are made with a blend of "five-times distilled British vodka", sparkling water and fruit extract.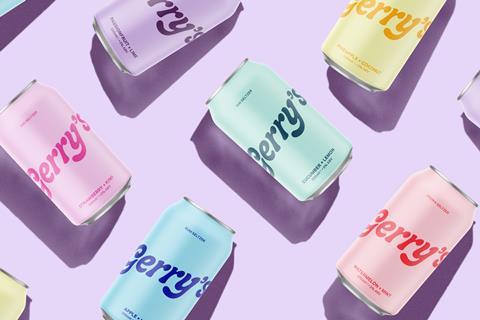 Gerry's
Claiming to be the UK's first DTC-only hard seltzer brand, Gerry's launched online in March 2021. Using a base of 'premium spirits' rather than distilled alcohol, the 5% abv drinks are available in six variants: watermelon, mint & vodka, cucumber, lime & gin, pineapple, coconut & rum, passionfruit, lime & vodka, strawberry, kiwi & gin and apple, lime & rum. Cases can be bought from the brand's website (rsp: £22.49/10x330ml), where customers can also join Gerry's Social Club, its 'community and loyalty programme'.