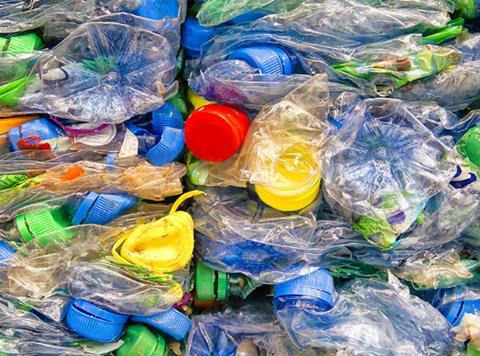 Leading soft drink suppliers have set out a roadmap to eliminate plastic packaging waste from their value chains by 2030.
Companies including Lucozade Ribena Suntory and Natural Hydration Council members Danone Waters, Highland Spring Group and Nestlé Waters today (6 September) delivered a report to the House of Commons, setting out their "ambitious" plan – created through the University of Cambridge Institute for Sustainability Leadership's (CISL) Future of Plastic Packaging initiative launched in March.
The roadmap document features key actions and aspirations in making the elimination of plastic packaging waste a priority. They include a commitment to make all water and soft drinks packaging from 100% recyclable or reusable material by 2030, with an aim for at least 70% recycled material by 2025.
The document – 'Towards Sustainable Packaging: a Plan to Eliminate Plastic Packaging Waste From UK Bottled Water and Soft Drinks' – recommends that suppliers and government find the material that will most effectively eliminate plastic waste while ensuring the lowest overall environmental impact.
They are also asked to research consumer behaviour to support recycling ambitions towards achieving a circular economy for bottled water and soft drinks packaging, while government ministers are urged to create a consistent nationwide recycling system, investing in the UK's recycling, sorting and reprocessing capacity.
Eliot Whittington, director of policy at CISL, applauded the soft drinks sector for "showing commitment to finding a solution to the plastic packaging waste problem".
Today's roadmap provided "a clear, strategic and ambitious roadmap for transformation of [suppliers'] value chain in the UK, enabling real impact and action on this problem and spurring the sector forward into a new way of operating" he added.
The CISL now plans to convene working groups to deliver on the four pathways set out in the report, encouraging input from organisations and experts interested in eliminating plastic packaging waste.
Members of the Natural Hydration Council were committed to "finding solutions to the problem of plastic packaging waste so that none of the packaging ends up in landfill or as litter anywhere in the environment" said the trade body's general manager, Kinvara Carey.
"It will be challenging, but it is our duty as responsible organisations to deliver our products to people in the most sustainable way possible. It needs to be easy for people to dispose of all packaging responsibly, and with the confidence it will not go to landfill waste or worse, escape into the natural environment."