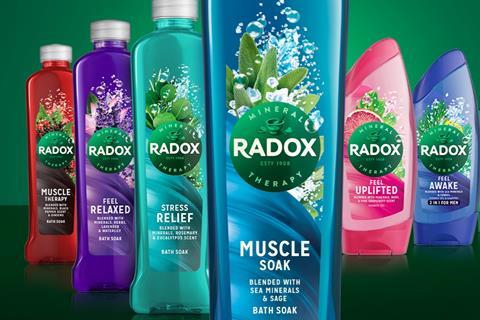 Radox has unveiled a complete brand redesign and unveiled a host of NPD in what the brand claims is its "biggest relaunch in a decade".
The Unilever-owned brand has debuted a new look across its packaging with a new 'Mineral Therapy' design showcasing the products' blends of herbs and minerals on pack.
The recyclability of the range will also improve, with bath salt packs being switched to a recyclable pouch and recycling information being made clearer on pack, said Unilever.
It will also launch a total of eight new products this month.
They are: Radox Antibac Handgels in Thyme & Tea Tree and Grapefruit & Basil (rsp: £2/50ml); Radox Relaxing Lavender and Radox Soothing Chamomile bath bombs (rsp: £2/100g); Radox Muscle Restore Epsom Salts with Eucalyptus & Lemongrass and Radox Crystal Calm Himalayan Salts with Jasmine & Hibiscus (rsp: £6/900g); and Radox Mini Shower Gels (rsp: £1.50).
The flurry of activity will be backed by a £6m campaign the brand said would "reinforce the importance of self-care and reinstate bathing as a key ritual for people's wellbeing".
Called 'Life's Better With Bubbles', it will span TV, radio, OOH and social, and will run from now until April. It would focus on three key "benefit pillars", Radox said, of "relax, refresh and recharge".
It follows a successful year for Radox in the supermarkets: sales of its shower gels rose £2.4m (8.1%) to £33.4m, on volumes up 8.9% over the 52 weeks to 5 September 2020 [Nielsen].
Unilever marketing director for deodorant, skin cleansing and gifting Monique Rossi said: "We know how important self care and taking time out of the day to recharge has become, so it is no surprise that we are experiencing more demand for products that allow people to unwind and escape from everyday stresses."