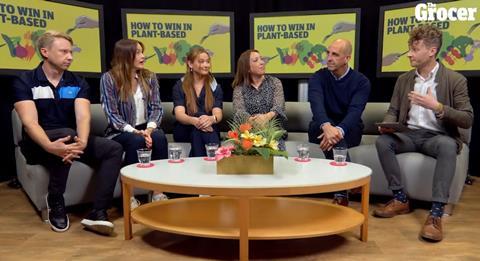 The future of plant-based and how vegan and vegetarian foods will grow has been called into question numerous times over the year, following a series of high-profile collapses, acquisitions and investments.
In this free-to-view webinar, sponsored by The Tofoo Co, the editor of thegrocer.co.uk, along with a panel of expert buyers, analysts and industry professionals, delved into the plant-based category's future.
Panellists offering their expertise were The Tofoo Co founder David Knibbs; Waitrose buyer for chilled plant-based & vegetarian Catherine Shacklock; Plant-based Food Alliance CEO Marisa Heath; Tesco plant-based product development manager Fay Hasnip; and NIQ Brandbank data transformation analyst Nick Smith.
A multitude of topics were discussed, including how much NPD is too much NPD; what supermarkets are looking for from plant-based; and how the market can set itself up for long-term success.
Here are three things from the webinar that you need to know to succeed in plant-based. For all the insight, register to view on-demand:
1) What is plant-based?
According to Heath, plant-based is defined as animal-free products and is a dietary term that differs from vegan, which is a lifestyle and choice covering different products, including clothing and other life aspects.
Plant-based is about diet and including a range of products within a diet, but is fundamentally based on legumes, nuts, fruits and vegetables. It's a diet for everyone and doesn't force people to go animal-product free.
2) Plant-based is a maturing category, which supermarkets highly value
Considering relatively recent claims that plant-based – particularly the meat alternatives market – is on its deathbed, sales and supermarket data say otherwise, according to Smith and Shacklock. There is still a vital and growing role for plant-based to play on supermarket shelves, said Shacklock, who confirmed Waitrose and other retailers see it as fundamental as they work harder to normalise the category in stores.
3) What supermarket buyers want from plant-based fmcg
The future of plant-based will rely on innovation and new product development, but beyond the SKUs currently available in supermarkets where there is a dominance of sausages and burgers, the panellists argued.
Plant-based NPD should seek to bring new and unseen items to the market to ensure the category offers a true point of difference. There is also a need for the category to ensure plants, as ingredients, remain central to the products. There is also a growing demand for the inclusion of additional functions in the form of nutrients and protein.
To find out everything the experts have to say on plant-based and the future of the category, sign up to view The Grocer's on-demand 'How to Win in Plant-based' webinar.