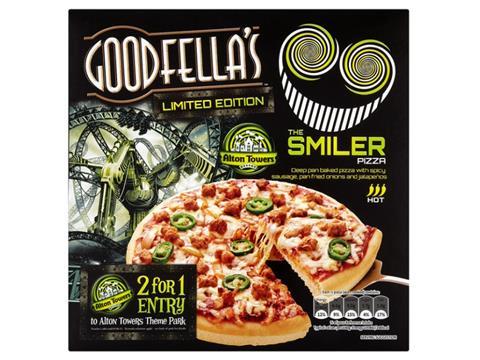 Nomad Foods is in talks to acquire the UK's Goodfella's Pizza for about £200m in a deal, according to The Financial Times. The deal would see the frozen foods-focused vehicle add pizza to a menu that already includes Bird's Eye fish fingers, the paper writes. The discussions, which were confirmed by people following the process closely, are understood to be advanced. Both companies declined to comment.
The CMA confirming it has formally cleared Tesco's £3.7bn takeover of Booker generates column inches on a quiet day for food and drink. The Mail says the competition watchdog gave approval despite fears the deal will push other firms out of business. The CMA justified its decision by saying that Booker doesn't own the shops it supplies, such as Londis, Budgens, Premier and Happy Shopper, The Telegraph adds. Rival wholesalers are weighing up an appeal after Tesco's £3.7bn takeover of cash-and-carry giant Booker was waved through unchecked by the competition authorities, The Guardian says. The authority's initial findings last month came just days before Palmer & Harvey, a big supplier of cigarettes, sweets and food with sales of more than £4bn, slumped into administration after failing to plug a £65m cash hole, The Times adds. "The failure by the CMA to defend small businesses, competition and the consumer is to be deplored, and adds to the distrust of regulators," Alex Brummer writes in The Mail.
General Mills saw sales edge up slightly versus a year ago over the last three months thanks to a boost from sweet cereals, despite a continued slide in US yoghurt sales, The Financial Times writes.
A small number of the UK's dairy farms account for an outsized proportion of antibiotic use, according to new research in the BMJ publication Vet Record, suggesting that closer scrutiny of antibiotic prescribing practices could help bring down their use, The Guardian writes.
A portion of spinach or kale a day could help to keep the brain a decade younger, researchers have found (The Times).
Nearly 45,000 retailers are in financial distress this Christmas as a snowy weekend and the squeeze on consumer spending power hit sales after the Black Friday rush, The Guardian flags. While Toys R Us faces potential administration on Thursday if a deal cannot be struck with the pensions lifeboat, there has been a 22% increase in the number of retailers, nearly 8,000 more, facing "significant financial distress", according to a survey by the advisory company Begbies Traynor.
The British arm of Toys R Us has proposed a series of concessions amid crisis talks to broker a last-minute deal to avoid the retailer falling into administration this week and risking 3,200 jobs, The Financial Times reports.