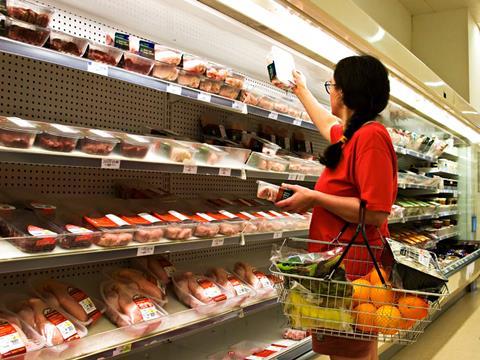 Supermarket price cuts are driving surging demand for chicken, new data has revealed.
Chicken sales are outpacing the wider fresh meat & poultry category, with volumes soaring 7.2% year on year and value up 2% to £448.3m over the last quarter [Kantar Worldpanel 12 w/e 22 May 2016].
"The chicken category has been stimulated by price reductions bringing in nearly half a million more shoppers over the period, whilst existing shoppers are buying more often," said Nathan Ward, Kantar Worldpanel business unit director for meat, fish & poultry.
Breasts accounted for half the volume growth in chicken, he added, while chicken legs and whole birds drove the growth in promotions.
Many popular chicken cuts are now cheaper in the mults than they were at the beginning of the year. Average prices are down 18% on joints, with prices also falling for chicken legs (-4%), breasts (-5%), thighs (-7%) and wings (-6%) [Brand View year to date 8 June 2016].
So far this year, the major mults have run 500 promotions on chicken SKUs, up from 435 over the same period in 2015.
Asda is leading the pack, accounting for 31% of all deals. The retailer has offered whole birds on a buy-two-for-£6 multibuy since the year began, as well breasts, thighs, legs and wings on 3 for £10. It has also rolled back prices on chicken SKUs, including own-label drumsticks and thighs down 34p.
Morrisons ramped up promotions on chicken the most year on year, offering own-label whole birds on a three for £10 deal since January, and recently cutting 31p off own-label chicken thighs and 28p off mini fillets.
BPC policy director Richard Griffiths said higher sales showed consumers had confidence in chicken's "versatility and convenience", whether as ready-to-cook products or to cook from scratch.